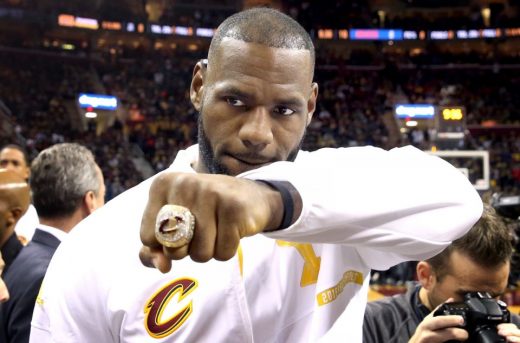 Four points I'm thinking about the Cleveland Cavaliers…
1.) What LeBron James did on Tuesday night was absolutely stunning.
I'm talking about more than finishing Game One of the 2016-17 NBA Season, a 117-88 thrashing of the new-look New York Knicks, with 19 points, 11 rebounds and 14 assists, a triple-double that moved him into sixth place all-time for that particular feat. I'm talking about the focus, the physicality and the bounce that James brought to the night that kicked off his fourteenth season. After the game, there was mention of a test James got that determined that the 31-year old had "the body of a 19-year old" which… okay, maybe. But seeing James run the court with determination, dunk the ball with power, while violently swatting away opponents' shots (even if their ricochet happened to catch Channing Frye square in the face) set the tone for the game and, quite possibly, for the season.
James's feistiness rubbed off on his teammates, as the Cavs racked up 12 steals and five blocks, which, for a team often accused of playing down to the level of its competition last year, was a tantalizing sight.
If James is going to bring it like this every night — or even most — he will win his fifth MVP award and his team, who played in a collective "chill mode" for much of last season, will be forced to follow the lead of the James we saw on Tuesday night. If that happens, it might be time to declare open season on the rest of the NBA.
2.) It was good to see the Cavs keep going back to Kevin Love, even after he started the game missing a couple of open looks. Love bounced back to finish with 23 points, second on the team behind Kyrie Irving's 29, on 6-15 shooting (2-6 from three) to go with 12 rebounds and two assists. Love was also active defensively, recording three steals, and finished the game with +24, second best on the team behind James.
At one point, with the Cavs on the defensive end, Love readily switched onto Derrick Rose. Rose sized up his opponent and then and drove at the man with a well-earned reputation as a defensive sieve.  As Love shuffled his feet ready to take on the challenge, I shook my head and muttered "Uh-oh… Looks like someone's been watching video of The Stop all summer." But then something miraculous happened. Much like with Love's "stop" of Steph Curry in Game 7 of the NBA Finals (though with somewhat different stakes, for sure), Love kept Rose in front of him and prevented the score. Was that for real??
If this is a new age for Kevin Love, NBA champion, current holder of the late Ultimate Warrior's WWE championship belt, who plays defense like, at least, a clogged sieve, count me as on board.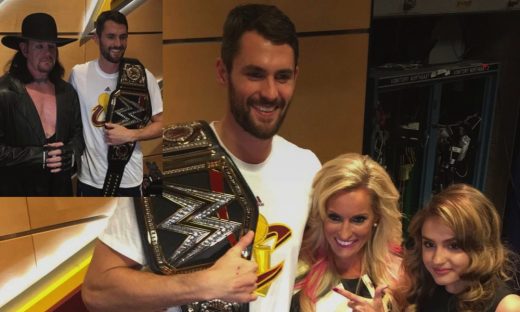 3.) In the NBA, one game — especially, when it's the first game of the season — makes a poor snapshot for the entire season. So, while it may take a while for head coach Tyronn Lue to figure out exactly how he wants to use all of the players on his bench, I liked what I saw from off-season addition Mike Dunleavy Jr. Now, that's not a big surprise. I expected to like Dunleavy and I think he could make a sneaky big impact on this team. But here's what he did on Tuesday night: in just over 22 minutes, the 6-9 swingman/combo forward went 2-3 from the field for four points, with three rebounds and three steals… and his +/- was third-best on the team with a +19.
Dunleavy — playing most of his minutes in the fourth quarter with the starters out — always seemed to be in the right spots on offense and on defense. It's unlikely he'll ever cost the Cavs a game this season, but his heady play and knock-down shooting will almost certainly win more than a couple for them.
4.) With de facto backup point guard Iman Shumpert currently undergoing the league's concussion protocol, the big question mark on the Cavs roster just got bigger… or smaller, depending on who Coach Lue decides to go with behind Kyrie Irving while Shumpert's out. The "smaller" option, of course, is rookie Kay Felder, who is currently in the concussion protocol himself and wasn't dressed for the season tip-off is expected to be available for the team's weekend swing against Toronto and Orlando. Felder struggled against the Raptors in the preseason, though, so look for Lue to go big when Irving sits and give most of those minutes to 6-6 DeAndre Liggins, just as he did on Tuesday night.
The Cavs had already built a sizable lead by the time Liggins took over at the point, so his time on the court was fairly garbage-y. Still, Liggins played with noticeable poise and flashed some of the defensive chops that helped pave his way from the D-League to getting run with the defending champs. Liggins played 12 minutes on Tuesday night, shooting 2-3 from the field for four points, while adding three rebounds, three assists and one block.
If Liggins can continue his steady play, allowing Lue to mix up the former Kentucky Wildcat's defensive chops with Felder, the more explosive offensive player, the Cavs might be able to show some patience as they continue to look for their back-up of the future… assuming he's not already on the roster.