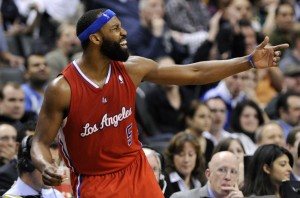 So, Mo Williams and Jamario Moon are gone; Baron Davis and his good friend Top 10 Draft Pick are now Cavaliers. We've had a spirited discussion on the merits of this trade in John's post. Let's see what the rest of the world thinks:
"[The] Cavaliers just sold their soul to a player who has shown absolutely no interest in living up to his abilities since he was drafted out of UCLA in 1999." [Kelly Dwyer]
"I don't see how this is a bad move for the Cavaliers in any way. They were never going to get more than a top 10 pick for Mo Williams, so credit to Chris Grant and crew for making this happen and getting it done. I think prior to this season, if anyone would told us the Cavaliers were going to get Baron Davis and a potential top 10 pick in the draft for Mo Williams, we would have found that hard to believe." [Andrew Schnitkey]
"[The] Cavs just added a potential second lottery pick. For a team in a massive and desperate rebuilding project as it still digs through the rubble of LeBron James bolting for Miami, the fastest way out is assembling as many high draft picks as possible." [Terry Pluto]
"The Cavaliers' trade is only as good as the upcoming draft, and that, unfortunately, is not so good." [Bill Livingston]
My abbreviated take on the Baron Davis transaction is that it is, on aggregate, a positive move. Davis will stifle the Cavs' cap flexibility, but while the team is rebuilding over the next few seasons, I'm unsure that having cap room is a number one priority. No significantly talented player is signing a reasonable contract with Cleveland's basketball franchise until the Cavaliers are competitive, and, over the course of Baron's deal, there will probably be no reason for the Cavs acquire such a player via trade when it's just going to improve their record to, say, 33-49. Chances are Davis's contract will either have already expired or it will be a valuable expiring contract by the time the Cavs look to bolster their roster with players who make significant money. And the draft pick? To poach a term from Oklahoma City GM Sam Presti's vocabulary: it's an asset. We'll be able to assess precisely how valuable it is after the lottery is over and college players start declaring for the draft.
Other Trade News
It appears the Cavs will hold onto their trade exception until the draft. Chris Grant and co. can use the TPE to essentially buy draft picks (or, theoretically, players) off of teams looking for cap relief on draft night.
Chris Broussard reports that talks between Cleveland and Charlotte regarding Gerald Wallace are dead.
Over at the Really Vague News desk, there are reports that the Cavs might not be done trading. Actually, the Really Vague News desk and the Extremely Obvious News desk are hashing it out as to whose jurisdiction this story falls under.
On The Twitters [Latest News]
"One offer on table: AP to Celts for Marquis Daniels. #Cavs would buy him out, send him back to Bos. But Cavs want Bos #1 next yr for helping" [Jason Lloyd]
"I'm told that the #Celtics have pulled ahead of the #Bulls in the Anthony Parker 'sweepstakes.' #Cavs eying up 2012 Draft." [Scott Sargent]
"Grant also says he's not sure if #Cavs are done with trade deadlined deals. He still has 'stuff on the board.'" [Mary Schmitt Boyer]
On The Twitter Pt. 2 [Davis Deal News/Reactions]
"If you talk to people who were there for Baron-Byron in Nola, they can't tell you enough stories of how brutal it was between them." [Adrian Wojnarowski]
"If all of that nets the Cavs another lottery pick, great draft class or not, so be it. No one incoming or outgoing factors to future." [Eric Knappenberger]
"As for this draft being weak… Compared to last years draft this one is 1984 all over again." [realcavsfans]
"Dan Gilbert's patience, it seems, just ran out. With $28 million left on Davis' contract – and those picks – DG wants turnaround #Cavs" [John Bena]
"#Cavs tried also getting Minny's unprotected #1 next yr, which LAC holds. LAC wouldn't do it. Likes next year's draft better than this year" [Jason Lloyd]
"I wanna say thank you to all Cavs fans. It's been great. We've had some really good yrs and memories. I will never forget u guys" [Mo Williams, who also tweeted that he "love[s]" Dan Gilbert]