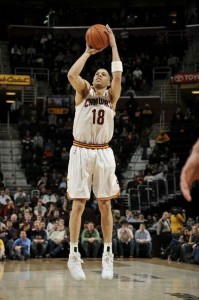 Trade News Roundup
"One thing [the Cavs are] talking about is trading veteran swingman Anthony Parker. They'd like Bulls center Omer Asik or Celtics center Semih Erden in return, but have been denied. They are now reportedly asking for a first-round pick for Parker." [Bob Finnan]
"If you were listening [to WKNR yesterday], or heard about the 'report' as WKNR ran it into the ground on Tuesday, then I want to give you my opinion.  That 'report' was a joke.  Windhorst had no idea which team was involved or which player was involved, just that the Cavs were contemplating a deal. That isn't reporting, it is the antithesis of reporting, and Windhorst should know better.  But in some strange desire to remain relevant in the Cleveland market, he threw out an amazingly flimsy rumor to get Cavs fans in a lather and give WKNR something to talk about on an otherwise empty sports day." [Michael Curry on Windhorst's report that the Cavs could be involved in a major deal]
Terry Pluto would like to see the Cavs make a deal for Andre Iguodala.
And the prospect that the Cavs could trade for Devin Harris is now dead, because he's headed to Utah in a trade for Deron Williams.
Other Stuff
Fear the Sword's Conrad Kaczmarek ponders the merits of the Carmelo trade and the implications it holds for mid and small market teams.
Byron Scott kinda sorta abhors today's NBA player.
On The Twitters
"I'd do that. RT @WFNYScott Gauging interest: how would #Cavs fans feel if the W/G took on Kaman and an unprotected first for the TPE?" [Michael A. Young]
"Icing: The Nuggets have received two traded player exceptions (TPE) in the Carmelo deal – one for $17.15M. Originally, it was FOUR." [Eric Knappenberger]
"The rest of the East seems to be getting better. The Cavs? Apparently they are content to stick with their awful 10-46 team." [Bob Finnan]