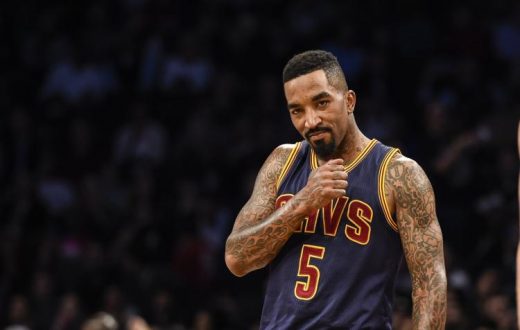 Four points I'm thinking about the Cleveland Cavaliers…
1.) On Friday, the Cavs and J.R. Smith agreed on a new four-year, $57 million contract, ending another preseason stand-off between the team's front office and Smith's agency, Klutch Sports. In the end, both sides can claim they got what they were after, as Smith will receive a reported $45 million in guaranteed money — quite a bump up from the $5 million he made last year — and the Cavs structured the contract to give them a shot at avoiding an even bigger luxury tax hit this year and give them some flexibility in the deal's final year.
For Cavs fans, all that really matters is that the starting shooting guard from the team's championship run has returned. Many saw it as a given that Smith would return, which probably slowed the negotiations somewhat, but there was no way the Cavs were letting go a player who was such a great fit. As Terry Pluto wrote in his weekend notes:
Smith is ideal here. They need his 3-point shooting. He can defend shooting guards and most small forwards. He is durable. Only once in the last nine years has he played fewer than 70 games. That was in 2011-12.
Which is not to say that money wasn't at the center of this deal — on both sides.
2.) While someone above my pay grade would likely have a more nuanced understanding of all of the numbers involved, here's how I see Smith's deal shaking out (all salary info per Basketball Insiders):
•With Smith's deal starting at $12.8 million, should Jordan McRae ($874,636 non-guaranteed) and DeAndre Liggins (just over $1 million non-guaranteed) make the team, the team would be looking at a total salary of $129,292,181 that dwarfs the payroll of the second-highest spending team, the Los Angeles Clippers at a shade under $115 million.
•That total puts the Cavs $16 million dollars over the league's $113,287,000 luxury tax threshold meaning that the Cavs are in the second-most punitive level of the tax. According to Larry Coon's Salary Cap FAQs, a team that exceeds the tax level by $15 million-$19,999,999 pays $3.25 for every dollar they are over the cap (after the incremental maximums for the previous… [nods off at keyboard]) . That means that if the Cavs should finish the season with this current roster intact, Dan Gilbert would be on the hook for a tax bill of roughly $32 million. That ain't nothin' and it could get worse next year when the Cavs will be in the even more punitive "repeater tax" territory.
3.) Now, what's sure to get GM David Griffin's wheels turning, is the fact that if the team can shed roughly $1 million from their payroll, they drop down into the $10 million-$14,999,999 luxury tax bracket where the cost is "just" $2.50 per dollar over the tax threshold. So, for instance, if the Cavs were to find a way to rid themselves of Mo Williams $2,194,500 contract for this year — either through a buyout or in a trade — that could save Gilbert over $6 million dollars this year.
Keeping the team close enough to the next level down in luxury tax penalties had to be on Griffin's radar as he sat at the negotiating table. It's not to say that the team is now more likely to buy out the rest of Williams's contract in order to save that money — or even that the team won't make a deal that brings on more salary, if they feel like it improves the team — but it can't hurt for Griffin to be able to look at Gilbert and say, "Look, I'm gonna see if I can save you a few million here or there" without the owner having to take the kind of more obvious cost-cutting measures that Miami owner Micky Arison took that so angered LeBron James when he was with the Heat.
What's more, even though the Cavs payroll is exorbitantly high, it's also going to be a pretty known (though still exorbitantly high) quantity going forward. The team's top eight players, including the entire starting five are locked up through next season, after which both LeBron James and Iman Shumpert have player options they can exercise. Kyrie Irving and Kevin Love are both locked up for three more seasons — before each has a player option in the final year of his deal — and Tristan Thompson is on board for the next four.
Even after Love re-signed with the Cavs last off-season, many thought the team would end up trading him largely because there is value to a player being locked up for multiple years at a known salary. So, while Cavs fans might get to enjoy this starting five for years to come, should Griffin decide to shake things up along the way he'll have a roster full of contracts that could wind up looking increasingly below market value.
4.) Finally, I just wanted to give a tip of the hat to the Cleveland Indians. Last night, they lost their first game of the postseason, but they still hold a 3-1 series lead against the Toronto Blue Jays, another opponent whose offense should be crushing the Tribe's battered and depleted pitching staff but (mostly) isn't. I don't assume if you're reading this that you happen to be an Indians fan, as well, but just take a moment to think about what Cleveland sports fans have been treated to over the last four months.
Not only did the Cavs win the city's first major professional title in 52 years, but they did it by coming back from down 3-1 against a team, led by a two-time MVP, that had just set the record for most regular season wins in league history. You remember that, right?
And, now, to see what the Indians are doing is… it's just… whew.
It's been a mighty fun ride.