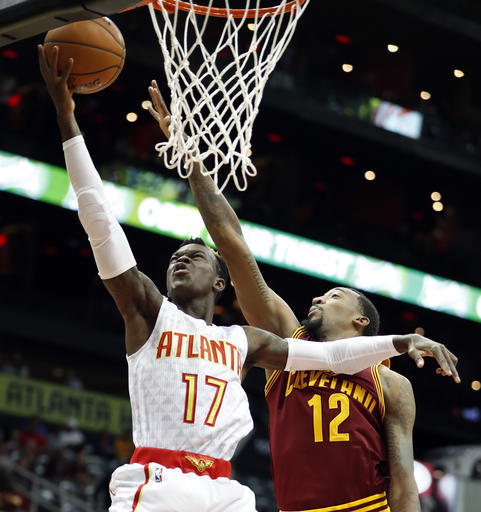 Four points I'm thinking about the Cleveland Cavaliers…
1.) Preseason is a time where things are often not what they seem. Case in point: Jordan McRae.
Over the first two games of the preseason, McRae, a back-up guard, averaged 20 points per game. Now, while no one — not Cavs GM David Griffin, not head coach Tyronn Lue, not even McRae's own mother — should expect the 6-6 wing from Tennessee to replicate stats like that during the regular season, that kind of performance is a nice preseason surprise.
In those two games, McRae, came off the bench and shot 51.9% from the field — 75% from both the free throw line and from beyond the three point line —while chipping in boards and assists to boot.
But October has its share of pumpkins, as well. All you have to do is look at… well, McRae, again.
In Monday's game against Atlanta, McRae, starting and assuming the role of presumptive lead scorer, went 1-14 and "gently rocked [CtB's own Ben Werth] to sleep with isolation brick after brick."
The idea of McRae as a legit NBA rotation player is not without its critics (including a few of us here at CtB). He doesn't have ideal quickness or athleticism to consistently create his own shot (at least, not always good ones) at the NBA level. Also, while he's shot the ball well on occasion, he's still what scouting reports call "more of a scorer that a shooter."
The question is: does McRae have the right make-up to be effective as a scoring option off the bench on a championship-caliber team? While the jury might still be out on that one for a while, McRae has been one of the Cavs' more intriguing prospects this fall. If nothing else, he may be clarifying what his role can be by showing the Cavs' brass where he is not most effective.
2.) One of the roles where McRae had, until recently, been miscast was back-up point guard.
Earlier this week, Coach Lue said that he would no longer be giving McRae a look as a possible back-up to Kyrie Irving.
Per Jason Lloyd of the Akron Beacon Journal:
"We're going to slow it down a little bit," Lue said. "It's not fair to him. It's something he hasn't done his whole career… We like what he gives us as far as offensively… Offensively he's definitely ready to step up and play, we've just got to keep bringing him along defensively."
While McRae has averaged nearly five assists a game during the preseason, which is pretty nice dishing from a scorer off the bench, reports since the summer have mentioned the team hoping the former Vol develops into a Jamal Crawford type.
It's a bit unfair to compare McRae, who was in the D-League as recently as last season, to Crawford, a three-time NBA Sixth Man of the Year winner, but we can use the point of comparision to whittle the expectations for McRae down to something a bit more realistic: a combo guard who can pass, but whose main role will be to score.. with the full understanding that his scoring might not always be of the most efficient variety.
If not Crawford, then, maybe McRae has some peak early-career Marcus Thorton in him.
3.) On Wednesday, the Cavs announced that starting center Tristan Thompson would make his preseason debut in tonight's game against his hometown Toronto Raptors.
Thompson had been held out of the first three games to rest a stiff foot. There is no indication that the injury was considered serious, as Thompson continued to practice with the team during the last two weeks and he was healthy enough to be part of this:
Thompson's absence has allowed back-up big man Chris Andersen to show the Cavs and their fans that, even at 38 years old, he's still got something left in the tank.
In two preseason games, both starts, Andersen has averaged five points and 3.5 rebounds a game in 14 minutes a game. What's more, he has chipped in a whopping (for him, anyway) three assists per game.
It's unlikely that Andersen will wrest a primary facilitator role away from LeBron James or Kyrie Irving — he's never averaged even one assist a game over his career — but it shows the kind of heady player  Coach Lue will be looking at when his eyes drift toward the end of his bench.
Thompson is coming off a playoff run in which he grabbed nine rebounds a game — over four of them on the offensive end. He joins Andersen, Kevin Love, and Channing Frye (and, of course, James) to give the Cavs the deepest, most versatile big man rotation of the LeBron 2.0 era.
4.) And, finally, the dawning of a new NBA season brings with it a new season of Cavs: The Fantasy League. As in previous years, the staff here at CtB is saving a few precious slots in our league for interested readers. If you want to join, drop me an email at the address listed in the sidebar. The open slots will be filled first come, first serve.
Year Three of CtFL is sure to be as full of exciting (but ultimately inconsequential) storylines as our first two tilts. Will I repeat as league champ? Will Evil Genius reclaim the crown he won in our inaugural season? Or will it be someone else? Could it be, even… you?