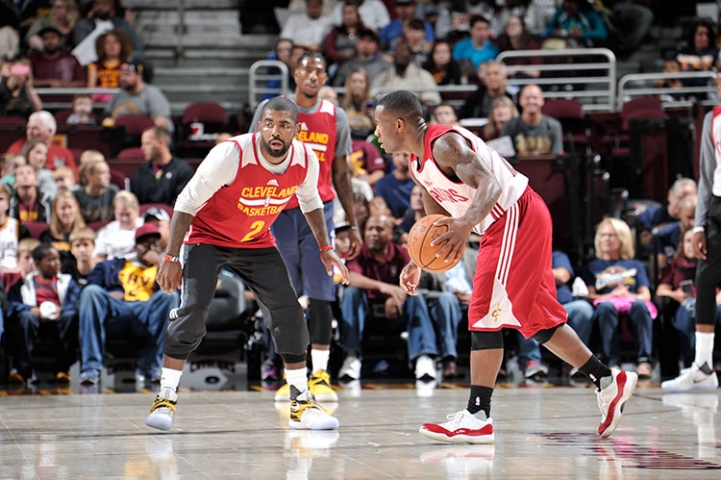 Four points I'm thinking about the Cleveland Cavaliers…
1.) Perhaps, the Cavaliers won't run a back-up point guard by committee, after all.
Monday's signing of seven-year veteran Toney Douglas gives the Cavs an experienced combo guard to compete their current crop of training camp attendees. While the team's answer may still reside somewhere on their current roster, Douglas brings experience and is more of known quantity than the other players the Cavs are currently auditioning for the role.
With Matthew Dellavedova now a Milwaukee Buck and Mo Williams retired, the Cavs were scrambling to find someone — anyone — who could step in and spell Kyrie Irving and none of their options were without question marks. Kay Felder, who impressed at summer league, is a rookie and stands just 5-9. Jordan McRae and Iman Shumpert are both shooting guards being given a look at the point. DeAndre Liggins is a 6-6 swingman, but he also averaged seven assists per game last year for the Sioux Falls Skyforce of the D-League. At 6-3, Markel Brown has good size and defensive ability, but he doesn't shoot the ball as well as the Cavs like from their perimeter guys.
The 6-2 Douglas played in 61 games (18 starts) for the injury-ravaged New Orleans Pelicans and averaged 8.7 PPG on 41% shooting from the floor (39.9% from three). The Cavs will be Douglas's seventh pro team, so his signing isn't a matter of the Cavs picking up huge difference maker. Still, he makes sense if only because championship-contending teams tend to favor experience and Douglas does have plenty of experience being a back-up point guard in the NBA. He hasn't always been a knock-down three point shooter in his career, though four times in his career he averaged over 38% from deep.
This move seems most likely to impact Felder who, while he will still make the team, could find himself more in the conversation for the Canton Charge than in the one about who's getting the bulk of the minutes behind Irving.
2.) Speaking of Felder, he took the court for the Wine and Gold scrimmage on Sunday and promptly turned in a performance reminiscent of another Cleveland rookie just one Sunday before.
The start to Cody Kessler's first game as quarterback for the Cleveland Browns couldn't have gone worse. Starting against the Miami Dolphins, the rookie from USC was sacked and lost a fumble on the Browns' first drive. Later, he settled down and played with composure as the Browns hung tough in the eventual loss. Felder looked similarly overwhelmed by his first public run as a professional, even if it was on a much smaller stage. His touch around the hoop was cold and, on one drive, he tossed the ball up… only to see it thump off the bottom of the backboard. Still, Felder kept attacking and was particularly impressive getting into the paint and kicking the ball out to an open teammate.
So, no, Felder didn't look like the Cavs' full-time back-up point guard in that scrimmage, but the rookie from Oakland deserves a look. He also deserves more time to get comfortable before any conclusions — even about this season — are made.
Other thoughts on the scrimmage…
The ball movement, especially early, was really pretty. The entire roster looked like they knew what to do and made quick decisions — and that was while playing without LeBron James!
Here's an easy way for Tyronn Lue to keep Mike Dunleavy Jr.'s minutes down: sit him after he hits his fourth three-pointer of the game. If Dunleavy continues to shoot like he did on Sunday, the 6-9 combo forward would end up averaging something like 12 points and only six minutes a game. Lue probably doesn't want to keep the minutes down that much.
Liggins looked comfortable bringing the ball up the court and initiating the offense. He also canned a corner three and played active defense. If Shumpert, as reported, recognized that his defense last season wasn't up to his personal snuff and recommits on that end, watching those two wreaking havoc together in the Cavs backcourt will be a lot of fun.
3.) A lot has been written about how much stronger Kevin Love has looked after an off-season during which he was allowed to lift weights and not just rest and rehab his injured shoulder. And it's true. During the scrimmage on Sunday, the eye test had him as stronger and more nimble than at any point last season. His outside shot looked good and he didn't just float on the perimeter. He rebounded the ball and looked to establish himself in the post on offense.
My favorite play from Love, in fact, didn't involve him scoring at all. Early in the first period, Love received the ball just north of the restricted area. He backed his defender down with two quick dribbles then, rather than continuing to work in isolation, he quickly whipped the ball back out beyond the three point line, where the Cavs swung it all the way to the opposite corner and got a wide open look at a three. The three didn't go in, but with the plethora of shooters on this team, ball movement like that will likely reward the Cavs with a bucket more times than not. What was particularly impressive about this sequence was not the action itself, but the speed and decisiveness with which the action took place.
Last season, Love was right at his career average for assists, dropping 2.4 per game. In only one season — his monster 2013-14 campaign — did he average appreciably more (4.4).  While its unlikely Love will have the ball in his hands enough to come close to those assists numbers, a more consistent year from Love on offense — which I think will happen — could lead to a more pass-happy player, as well. Both of those things would be huge for the Cavs, who (for yet another season) plan on keeping Love's other star running mates, James and Irving.
4.) When the Cavs kick off their preseason tonight against the Orlando Magic, they'll find themselves up against one of their more pesky foes from last season's Eastern Conference playoffs: new Magic center Bismack Biyombo.
Many questioned the Magic's thinking when they signed Biyombo and trading for Serge Ibaka, when they had young, promising big men in Aaron Gordon and Nikola Vucevic. Still, the team lucked out when new head coach Frank Vogel fell into their lap after being fired — unjustifiably, some would argue — by the Indiana Pacers. Now, what looked like a recipe for a logjam in the paint for the Magic is being spun as a potential strength. Gordon will be moved to the three and with Ibaka currently resting an injury, Vucevic and Biyombo have been sharing the court. Biyombo has been a real hit and Vucevic, for one, believes all that size can play together.
"Obviously, [Biyombo] is a guy who has a lot of energy on defense," Vucevic said. "On offense, he runs the floor really hard. He goes to the boards. It is much easier to play with him. Especially for a guy like me who can step out and pass the ball. It's been fun to play with him. We'll keep building chemistry. When Serge [Ibaka] gets back, with him as well. I think we'll have three good bigs out there. It will be really tough to guard us."
The Cavs will get their first chance to contend with the new-look Magic tonight at The Q.