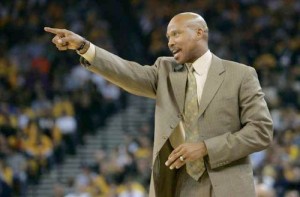 "Yes, they're awful. But you know what? Given their LeBron-free plight, they are better off this way. First of all, at least they are interesting. Who wouldn't pull for this team and this town? NBA teams that are merely bad are usually boring. This team is endearing. It embodies everything that has ever gone wrong in Cleveland sports, which is saying something." [Michael Rosenberg]
As John incredulously noted yesterday, Byron Scott seems to have figured out what the Cavs need: a massive improvement on the defensive end. Insert phrase containing a fictitious British detective and animal excrement here.
Both Ken Berger and Kurt Helin are reporting that the Cavs are desperately attempting to unload everyone and everything they can before February 24: Antawn Jamison, Anthony Parker, the LeBron trade exception, etc. There is also further speculation that, if anyone moves before the trade deadline, it's most likely to be Parker.
Jason Lloyd thinks the current Cavs' roster contains only four keepers: Hickson, Eyenga, Gibson, and Sessions. Apparently, Lloyd doesn't believe in Manny Harris, who has converted quite a few Cleveland fans and journalists this year.
To wrap things up, another WFNY Cavs Mailbag. In this edition, Scott Sargent addresses the Cavs' offseason itinerary, Byron Scott's accountability, and what the starting lineup might look like in 2011-12.
Of note for tonight's loss game against the Lakers: Boobie Gibson will be a game-time decision, as his left quad is still ailing.
On The Twitters
"Kobe Bryant says he feels for Byron Scott, his mentor coming into the league. #Cavs" [Scott Sargent]
"#Cavs Hall of Fame broadcaster Joe Tait will join Cavaliers Live Pregame Show on FOX Sports Ohio over the phone tonight. Show starts at 7″ [Mary Schmitt Boyer]
"Even at 6'11 Jan Vesley is an NBA tweener. Not athletic enough to cover NBA small forwards too weak to bang with NBA power forwards." [realcavsfans]