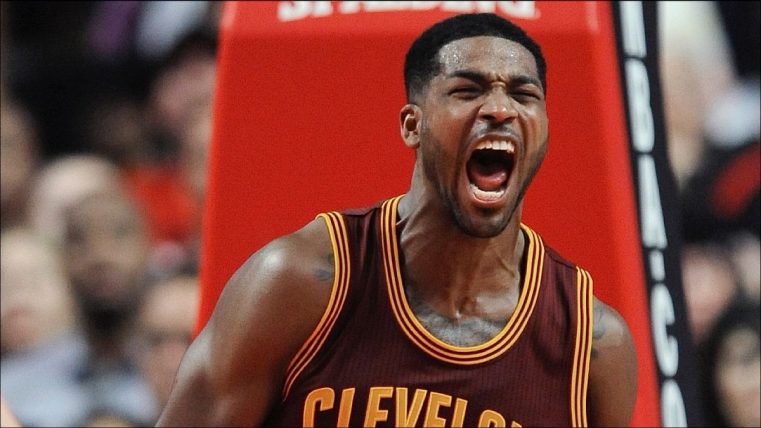 As the Cavs prepare to kick off training camp, they are not a team without issues heading into the 2016-17 NBA season. They have yet to come to terms with their free agent starting shooting guard. Their back-up point guard may or may not be planning to retire (and, what's worse, he apparently hasn't made his intentions any clearer to the Cavs front office than he's made them to you and me). Their back-up shooting guard clearly hasn't spent his summer working on his decision making. And the players whose minutes head coach Tyronn Lue will try to keep down could make up over half the roster.
Of course, the Cavs had their issues heading into last season, as well. Kyrie Irving and Kevin Love were coming back from off-season surgery and Iman Shumpert showed up to camp with an injured wrist. Meanwhile, Rich Paul and Tristan Thompson sketched out the blueprint for J.R. Smith's protracted contract negotiation. There was still uncertainty over Love's fit with the team, David Blatt's hold over the locker room, and the ongoing concern about whether or not LeBron James trusted his teammates.
The Cavs weathered those issues, all arguably more pressing (especially if you assume, as most do, that Smith will sign a contract to play with the Cavaliers at some point) than any on their current pu-pu platter and wound up capturing the franchise's first championship in spectacular fashion. While plenty of sports seasons are defined by the bad stuff that… well, just kinda happened, sometimes good things happen unexpectedly too.
So, this week, I want to focus on four things that could unexpectedly break the Cavs' way this season.
1.) Kevin Love's Comfort Level: Chris Bosh warned Love that playing with James and Irving would take some getting used to. So far, Love's tenure wearing the wine and gold has been a mixed bag, but it's also now a bag with a championship ring in it. Love responded well to Ty Lue's prodding to play aggressively. Still, it can't hurt for Love to see the ball go through the net in fewer fits and starts than he experienced in his first two seasons with the Cavaliers.
Last year, Love's Effective Field Goal Percentage dropped below 50% for the first time since his injury-plagued 2012-13 season. His field goal percentage was a career-worst 41.9% and his three point shooting also dipped to a three-year low of 36%. It had to be a frustrating season for Love, but, as stated earlier, it was also a season that ended with an engaged Love defending unanimously-selected MVP Stephen Curry and seeming willing to do the dirty work that helped the Cavs capture the title.
There is some reason to hope that Love finding success as the rebounder/floor-stretcher in the Cavs three-star attack during the playoffs could take some of the pressure off and that a relaxed Love will also lead to a more efficient Love.
Take Bosh's third year with James in Miami. In 2012-13, the Heat were like the Cavs are today: in their third year of teaming James with two other stars. The Heat, like the Cavs, were also coming off their first title with James and Bosh, at 28 — the same age as Love is now —  responded.
Bosh turned in his highest PER (20) of the Heatles era. His eFG% jumped from 49.3% to a then-career high of 54.6%, a level he would only exceed once, the following year. Bosh had clearly developed a comfort level with his role in the Heat's success in Year Three and that comfort was clearly reflected in his game, despite the fact that he averaged 16.6 points per game, the fewest since his second year in the league.
2.) Mike Dunleavy Jr.'s Bounce Back: There's going to be plenty of experience to be found sitting on the Cavs bench. Summer acquisition Mike Dunleavy Jr. is 36, as is Cavs' playoff hero Richard Jefferson. James Jones will turn 36 on October 4. Chris "Birdman" Andersen is 38. None of these players will be expected to play regular heavy minutes and the positional versatility — not to mention the high basketball IQs — of Dunleavy, Jefferson and Jones should allow Ty Lue to mix and match these players in order to keep everyone fresh.
If you're looking for a veteran who could make a sneaky-significant impact on the team this year, much the way Jefferson did last season, it's tough to look anywhere but at Dunleavy. While a back injury limited him to just 31 games in 2015-16, Dunleavy is still the player who has shot better than 38% from three each of the last six years. He's also an underrated team defender who, at 6-9, can back up both James at the three spot and Love at the four.
In short, the team that set the NBA record for three pointers in a game (25 against the Atlanta Hawks in the second round of the playoffs) just added one of the league's better shooters and Dunleavy has a real chance to thrive in his first full season back.
3.) Attack of the Killer Shrimp: While it seems unlikely that Ty Lue will entrust big minutes on a championship contender to a 5-9 rookie point guard, either the team's guard situation or the play of Kay Felder during camp might not leave Lue with much choice.
Before LeBron James won his first championship (after which he clearly — and understandably — preferred more veteran players) he shared the floor with a young J.J. Hickson with occasionally fantastic results. As a rookie, Hickson played in 62 games, averaging 11.4 minutes, four points and nearly three rebounds a game on what was arguably the best team of the LeBron 1.0 years.
If Felder can play with enough poise and confidence to convince James that all of his preferred running mates need not be over 30 years old (Irving, Love and Tristan Thompson excluded, of course), Cavs fans could see some spectacular play between The King and the player who led the NCAA in assists last season with 9.3 per game. Only this time, it won't be James finding a young Hickson in transition, it will be Felder finding James and letting one of the best in the league do the finishing.
4.) Tristan Thompson's Evolution: By the time the Cavs took Game 7 of the 2016 NBA Finals, no one was even thinking of giving Tristan Thompson any guff about the size of his $82 million contract. What good basketball minds were saying when Thompson inked that deal — and what was later proven on the court — was that Thompson's real value wouldn't be felt until the playoffs. So, there was Thompson, a full-time starter by the end of the season, averaging over four offensive rebounds a game during the post-season (nine total), while keeping enough of that hustle in reserve to anchor the Cavs' switching defense.
Like with Love, this season should be a more comfortable one for Thompson. Sure, monetarily he was plenty comfortable last year reaping the rewards of the deal Rich Paul negotiated. But this season he should be much more comfortable in terms of knowing what to expect on the court. This will be the first year that there is no discussion over what position Thompson plays (he's a center), no question where he falls in the rotation (he's a starter), and no moments where Thompson considers shot-putting a jumper from the elbow (he will only catch lobs from LeBron).
So, what does Thompson — who, by all accounts, has a tremendous work ethic — improve upon? He can't really be more of an energy guy. But he can be a better defender at the rim.
According to Nylon Calculus, Thompson allowed opponents to shoot 52.5% at the rim — almost as bad as the 54% given up by Love, a notoriously poor rim protector.  In fact, Thompson's rim protection cost the Cavs more points than it saved (-.44 points saved) as Cavaliers opponents took more attempts at the rim with Thompson on the court than when he was off.
During the playoffs, the Cavs defended the rim very well as a team, so it's not like they need Thompson to turn into the second coming of Dikembe Mutomobo in order to have any success on defense. Still, if there's an area where improvement by Thompson could end up helping his team immensely, it has to be his ability to protect the rim one-on-one. Maybe this will be the year he finally shows that.
Next week: the four things that could go unexpectedly wrong.