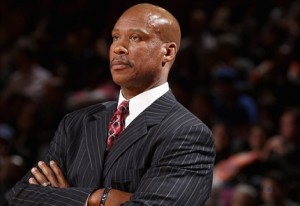 The main story being reported by several media outlets today is that Byron Scott is deeply dissatisfied with his team's play. Not because they're terrible so much as they spend large chunks of games going through the motions. Scott went so far as to call last night's loss to the Pistons "a gigantic step backwards." This isn't news to anyone who has been watching this team fro the past few months, but Scott has largely maintained his cool throughout the team's tumultuous losing streak. It remains to be seen how much good yelling and screaming is going to do, but at least someone's angry.
Scratch that, Mary Schmitt Boyer is angry as well: "I would like to see any evidence that this pathetic, gutless team has a heartbeat or any sign of life. I see none. After a shameful showing that was an affront to anybody who works for a living, I see guys walk out of the locker room with food, heading to the rest of their evenings. Nobody's embarrassed. Nobody's inconvenienced. Nobody seems to care."
Injury notes: Leon Powe is hopeful he will return to action this Friday, and Mo Williams is close to 100%.
On The Twitters
"Last 5 Games: Ramon Sessions 19.8ppg 10.4ast 4.6rbs 2.0stls on 59.6% shooting – JJ Hickson 19.2ppg 10.2rbs on 52% shooting" [Michael A. Young]
"BScott: 'I just have a lot of confidence in what I do. I know I'm the right man for the job.'" [Jason Lloyd]
"Game last night was infinitely winnable. Cavs give same effort as past two weeks, streak ends. But no, and no. And so it marches on." [Eric Knappenberger]