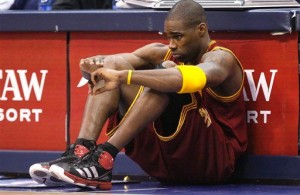 This is a day upon which Cavs fans are blessed with, if not a competent basketball team, some really excellent Cavs-related journalism. I recommend sinking your teeth into each of the three features collected below.
"Dan Gilbert is quite familiar with incurring and then paying off debt. It is his primary business as a wealthy mortgage broker. The Cavaliers' owner and his organization, though, didn't plan for the balloon payment they're being forced to swallow in what has become a miserable winter in Cleveland." [Brian Windhorst]
"This team is awful, and it's not the team's fault. It's the fault of Dan Gilbert, whose hubris and ego led him to believe that he could coddle James and get away with it for years, believing that the narcissistic superstar would give Cleveland the hometown discount in preferring Mo Williams over Dwyane Wade. When James declined, Gilbert's ego led him to believe that the team that James (and Danny Ferry and Mike Brown) left behind would be worth anything on its own." [Kelly Dwyer]
"[Is] the ultimate emptiness any different? The end result is still the name "Cleveland" being found on the losing side of the equation. Sure, the stage may not be as large on a mid-week game within the bitter winds of February, but the feeling should be the same, right?" [Scott Sargent]
In the vein of Sean Deverey's article yesterday, here's an article from Joel Brigham of Hoopsworld detailing possible Cavaliers "saviors." As stated before, I have problem with the "savior" tag, but to keep ourselves sane in the midst of this sanity-testing win drought, it's healthy to keep our eyes on the horizon.
Minor notes: Byron Scott says that Mo Williams and Leon Powe got through practice alright on Tuesday, but they will not play in tonight's game against Detroit and are doubtful for Friday's Clipper tilt. And Boobie Gibson will be competing in the 3-point contest over All-Star weekend.
On The Twitters
"Mo comes off the worst in Windhorst's #Cavs story. Out of shape & depressed with conditioning injuries. Was he crying & eating Bon Bons too?" [Michael A. Young]
"'This is not a curse, its a god damned Greek tragedy.' My email comes up with another gem." [realcavsfans]
"#lasttimethecavswon dies tonight. #Believeland" [Eric Knappenberger]