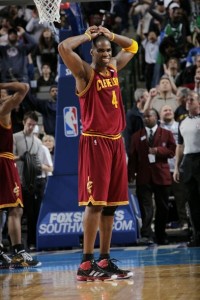 "When it was over, when the Cleveland Cavaliers officially claimed the longest losing streak in NBA history, Byron Scott smiled and shook his head. Antawn Jamison grimaced in disbelief" [Jason Lloyd]
We've gone from a slow drip of Cavs coverage yesterday to a surging torrent of (pretty redundant) opinions, analysis, and predictions. I guess this is the difference between being terrible and historically terrible. Noam from Hardwood Paroxysm comments on this phenomenon by coming to a brilliantly simple conclusion: the Cavaliers are really bad and should probably be ignored by any non-Cavs fans for the next few years. There's no real need to discuss this team's awfulness on the "A" block of PTI other than for the purposes of pity and gawking.
"The season's over in what, 60 days? So in 60 days you go from being a suffering franchise to having the best odds of getting the first pick and a ton of [salary] cap room, and you're the hero all summer." [Mark Cuban via Jodie Valade]
Speaking of high draft picks, Sean Deveney speculates as to whether or not "Jared Sullinger can save the Cavs." I don't think I'm the only person who finds the word "save" troublesome when it's used in reference to a college freshman, and, regardless of the language one chooses to employ, there's a decent chance Ohio State's phenom lacks the transcendent talents upon which one can build a championship team. That's not a slight at Sullinger: there are about six people on the planet that hold that distinction. Is anyone else concerned, due in part to the near-imminent lockout as well as an ostensible dearth of dominant college players, that there may not be any franchise players in this draft? I am terrified of a Cavs squad that features an overmatched Perry Jones or just-pretty-good Jared Sullinger as its centerpiece going forward.
Over at the Good News Desk, we've received word that Cavs announcer Joe Tait has moved home to continue his rehab from heart surgery.
On The Twitters
"It's been five minutes. I'm still at a loss for exactly how to describe those last seven seconds." [Zac Jackson]
"The trade deadline is 16 days away and if Jamison is gone I'll throw a party and get drunk. If he's still on the team I'll still get drunk." [realcavsfans]
"ESPN is trying really, really hard to make people think the only difference in this years #Cavs team is LeBron James." [Scott Sargent
"Do writers really believe their "Cavaliers are really bad" article is breaking any new ground?" [Michael A. Young]