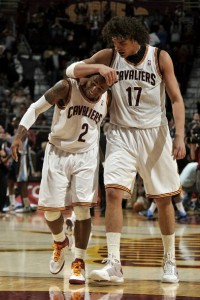 Marc Stein is reporting that the Cavs were talking with the Oklahoma City Thunder about a possible trade involving Anderson Varejao before he went down for the season with an ankle injury. Anyone who has watched the Thunder play this year has probably noticed they need another big man who can rebound and play defense; apparently, they thought Varejao was the guy. I think Varejao would have been a great fit for OKC: he could have defended the other team's best forward or center, rebounded with alacrity, set screens, and put up some points here and there. Plus, he would have fit in well with Westbrook and Durant because he doesn't need the ball to have a considerable impact on the game. OKC could have sent either Jeff Green or James Harden (optimistic) or some combination of draft picks and, say, Cole Aldrich (more realistic) to the Cavs in return for Varejao's services.
[Insert sound of readers of The Blog sighing emphatically]
"The Cavaliers, at 8-37, have the worst record in the NBA, a season after LeBron James took his talents to South Beach, without saying goodbye and thanks. Tonight, the Nuggets are here, the third game of Denver's five-game road trip — the Nuggets (27-18) have won the first two." [Benjamin Hochman]
"On the defensive end I think we've gotten better; we just have to continue to do it for 48 minutes, and that's what we're going to continue to preach." [Byron Scott via George M. Thomas]
"Though [Christian Eyenga's] numbers will not garner him All-Star consideration like fellow rookie Blake Griffin, the 21-year-old native of The Congo continues to impress his coaching staff with persistent progress, seemingly boundless potential and willingness to embrace all facets of the game.  But most of all, Byron Scott and company remain in relative awe about Eyenga's athleticism, placing him among the best in all of the NBA." [Scott Sargent]
Jodie Valade provides a brief breakdown of the Cavs' trade chips. It's nothing most of us haven't been chewing over for the past month, but it's good to remind ourselves what we have and if it's worth anything.
Oh, and the Cavs' value as a franchise has dropped 26% since LeBron left. So, there's that.
On The Twitters
"Can you imagine the outrage in Cleveland had the Cavaliers traded Andy Varejao for Byron (BJ) Mullens? Yikes." [Andrew of WFNY]
"My mom called today and asked how I was. I told her "Just grindin homie, you know how we do". She didn't find it quite as amusing as I did." [realcavsfans]
"Varejao will seek another opinion before deciding whether to have surgery." [Jason Lloyd]