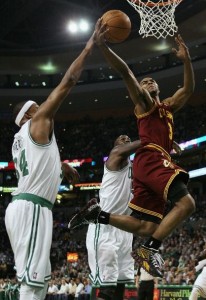 "Cleveland has the worst record in the league at 8-37 and can tie the franchise record for consecutive losses in one season on Friday against Denver. The team also shares the NBA record for consecutive losses with Denver — 24 — spread over two seasons for the Cavs." [Mary Schmitt Boyer]
"With their loss in New Jersey on Monday night, the Cavaliers are now 0-12 in the month of January and have lost the 12 games by an average of 16.8 points per game. Offensively, they are averaging just 92.5 points per game while giving up 109.3 points per game on average. The number is even a little misleading to the positive side for the Cavaliers, as teams have rested their starters in the fourth quarter numerous times." [Ryan Isley]
"Somewhere in the last couple of weeks, on their way to losing 18 straight games and 28 of 29, the Cavaliers crossed a line that separates bad teams from historically bad teams, and in the process, they acquired a rare sort of terrifying quality: the team that is so bad opponents and opposing fans approach them with a sense of urgency." [Zach Lowe]
"Simply put, the basketball gods, whom you would expect to have some sympathy for the team most adversely affected by "The Decision,'' have instead been extraordinarily hostile to the poor Cavs." [Bob Ryan]
Another Cavs Mailbag from WFNY, which features questions and answers about trade prospects, Byron Scott's commitment, and Boobie Gibson's upcoming wedding.
How irrelevant are the Cavs? Tickets for their game against the Nets the other night were going for as low as 11 cents.
Some news to remind everyone that the universe is not always cruel: Cavs radio announcer Joe Tait recently checked out a rehab clinic after undergoing successful heart surgery. He hopes to return to the announcer's table sometime around the All-Star Break.
On The Twitters
"Cavs' basketball is to basketball what Basketball Wives is to wives." [hoopshype]
"If Rachel Phelps would have put together a team as bad as this Cavs roster the ending of Major League would have been totally different." [realcavsfans]
"Jamison on record losing streak: 'Goes in one ear & out the other. Thinking about it or dwelling on it doesn't help the psyche at all.'" [Jason Lloyd]