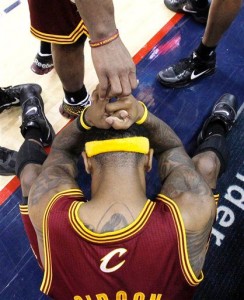 "Sadly, at this point, there's probably nothing the Cavs can do. lnstead, it will be left to what an opponent does (or doesn't do) that may get them over the hump. When that will happen is anyone's guess." [Mary Schmitt Boyer's post-game blog]
Doc Rivers recently placed a call to Byron Scott and offered some sentiments in the "keep your head up" vein. I know NBA coaches are part of a fraternity and they confer from time to time, but the fan in me is indignant. The Celtics used to want to rip our throats out and now they're taking pity on us. Spectacular failure breeds bruised pride, I guess.
One of the few encouraging aspects of the last couple weeks of Cavs games has been J.J. Hickson's effort on the boards. He seems to be working his butt off (as he should) and he is apparently no longer clashing with Byron Scott. I'm upgrading their relationship from "inmate and parole officer" to "hard-headed child and teacher."
Andrew over at WFNY has a really thoughtful feature on the lessons of this horrid season and choices the Cavs' front office and coaching staff will have to make throughout the rebuilding process if we're going to look back on the 2010-11 season as antiseptic to a wound and not the beginning of a prolonged stretch of futility.
On The Twitters
"You're not going to double Lopez there? Really." [Kurt Helin]
"#Cavs could win out the month of January and still have the worst record in the East." [Scott Sargent]
"The game vs. the Nets was a back breaker that even the most positive player won't recover from. I expect infighting to commence shortly." [realcavsfans]