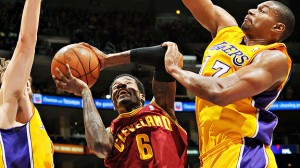 I'm hopping a train to Indiana in about 45 minutes, so it's gonna be a quick and dirty links section today, guys.
"Regardless of the outcome of this game, there will be at least 15 teams in the NBA with more wins than the Cavaliers and Nets combined.  As considerable underdogs, Las Vegas expects the Wine and Gold to take their current losing steak to 17 games, furthering the gap between the two teams that could potentially be vying for the first-overall draft pick in the 2011 NBA Draft."  [Scott Sargent]
"Should the Cavaliers finish with the worst record, they would be assured of drafting no worse than fourth next summer. The bad news is there is no clear franchise player worthy of a No. 1 overall pick — and there certainly isn't another LeBron James waiting in this draft." [Jason Lloyd]
"Now starting at point guard for the Cavaliers … rookie Manny Harris?" [Mary Schmitt Boyer]
Ramon Sessions is questionable for the Cavs' matchup with the Nets tonight. I assume that's referring to an injury and not his ability to play basketball.