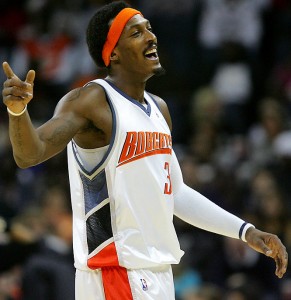 You guys have been talking about it in the comments section of yesterday's post, but the story of the day is the trade rumors surrounding Charlotte's Gerald Wallace. Yahoo's Adrian Wojnarowski reports the Cavs would use $10 million worth of their trade exception in exchange for Wallace. He also reports the Cavs are pushing for a lottery-protected first round pick for taking on Wallace's contract, which pays him $22 million over the next two seasons (expiring in 2012-13). The Cavs, if they cannot agree to terms with Charlotte, have also inquired about the Sixers' Andre Iguodala, who has $44 million and three years left on his contract. For more details, you can check out the full article.
"I am a Gerald Wallace fan, but I stop short of believing that he is a genuinely great player.  He would have been a great fit with the Cavaliers playing alongside LeBron James, as he likes to defend, run, and finish at the hoop, but doesn't require a lot of touches or shots to be effective.  Those are good traits even in the absence of LeBron, but they are somewhat less valuable with the current Cavalier roster." [Michael Curry]
Byron Scott claims he's not paying much attention to what the front office is doing. I suppose focus is key when your team is in the midst of a historically terrible year, but I'm sure he would be mildly thrilled to have someone of Iguodala or Wallace's caliber, if only because he would finally have a borderline all-star talent on his roster.
For the Cavs' upcoming game in Utah, they'll likely be without Anthony Parker, Christian Eyenga, and Boobie Gibson, who practiced Thursday, but isn't quite ready to return from his ankle injury.
On The Twitters
"#Cavs will start Mo and Manny at G, Jamison and Gee at F, J.J. Hickson at C vs. Jazz" [Mary Schmitt Boyer]
"The difference between the 1st overall pick and the 6th is just flat out huge. Adding talent jeopardizes their draft position." [realcavsfans]
"One question I have (and will continue to have)…does Gerald Wallace want to be here? You can say "who cares?" but this is important now." [Eric Knappenberger]