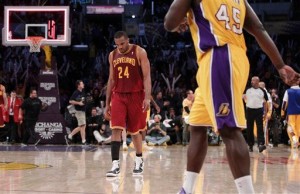 "It can't get any worse than this. I don't know how much of this I can take but this by far is rock bottom." [Antawn Jamison via Daryl Ruiter]
"The Cavaliers have now lost 11 in a row and 21 of their last 22 games. They will take Wednesday off, return to practice Thursday in Los Angeles and then fly to Salt Lake City to face the Utah Jazz on Friday. The trip concludes with a back-to-back Saturday night at Denver." [Jason Lloyd]
Mary Schmitt Boyer talks Byron Scott, the impact of Varejao's injury, and whether or not the Cavs are tanking.
"Because James has never listened to anyone, ever, he tries to make it right while following his own instincts. And because he's never listened to anyone, ever, he still thinks his instincts are spot on. And, as the last few years have proven, he couldn't be more wrong in that regard. He starts in the right place, with feelings and actions we all can understand, and just blows it all to pieces." [Kelly Dwyer]
Oh, and Ted Williams is headed to rehab, not a job in the Cavs broadcasting department (at least not right now). Good to see he's getting his priorities in line.
On The Twitters
"This Clippers team is exactly what you hope the Cavs team looks like in 2 years. Full of young talent you can build around." [realcavsfans]
"Word is DET plans to keep Troy Murphy IF Melo deal lives. Other teams already calling for Murphy but Pistons averse to buyout w/sale pending" [Marc Stein]
"RT @brianspaeth: Has every Heat-Clippers karma joke been used already?" [Scott Sargent]