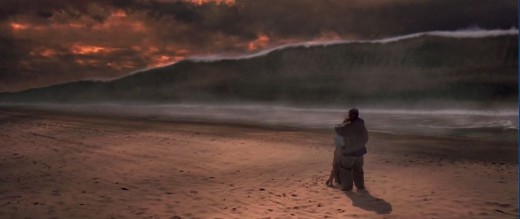 Holy Christ. I was at this game, and it was terrible. In no way did the Cavaliers belong on the same court as the defending champs. If the Cavs had done everything right in this game, they would have been blown out, and they did everything wrong. Here's the craziest thing about this game: The Lakers started things off by hitting three straight threes (what a surprise), went up 9-2, and the game already felt over. Derek Fisher was goofing around on a fast-break. The crowd was vaguely bemused. The Cavs looked confused and scared. The game absolutely felt over. And it was. The only thing we didn't know is just how bad it would get.
In the early-going, the Lakers destroyed the Cavs' undersized front line with Bynum and Gasol. Just absolutely destroyed. The Cavs' bigs weren't tall enough, weren't athletic enough, and had no idea how to play defense, while the Laker bigs were making strong moves and beautiful interior passes to each other. Seriously, the Lakers' interior passing is so much better than everybody else's. It's amazing. And of course, the Cavs only existed to show everybody just how good the Lakers' interior passing is. Manny Harris was guarding Kobe, and the Lakers took a 39-point lead with only one Kobe basket. That is absurd.
That was the Cavs' defense, which was extremely bad. The Cavs' offense was where all that is good and happy in this world goes to die. The Cavs couldn't move the ball, couldn't shoot threes, and couldn't score in the paint. Here were the Cavs' go-to plays on offense, and I am not making any of this up:
J.J. Hickson shooting jumpers: J.J. relationship with his jumper is like a heroin addict's relationship with heroin: it was great for that first little while, but now it would probably be better for everybody if he had never discovered jumpers in the first place. He looked completely terrified on both ends of the floor, and was awful.
Samardo Samuels in the post: Samardo Samuels is unathletic and undersized. He was matched up against Pau Gasol and Andrew Bynum. He seemed to believe that if he did enough counter-moves, Gasol or Bynum would forget that they were much taller than Samuels, and did not actually have to move to block his shot. At no point did Gasol or Bynum forget that Samardo Samuels could not score on them without stilts and a shotgun, and Samuels went 1-12 from the floor with four turnovers.
Mo Willams and Manny Harris firing jumpers: Mo and Manny figured out that there was nothing to be gained by going into the paint and trying to score on Bynum/Gasol, so they decided to fire a contested jumper if they got anything resembling space. It didn't work. They combined to shoot 3-17.
Alonzo Gee doing energy things: This actually worked: Gee was active, gave great effort, and got some garbage buckets by staying active around the rim. This was not your fault, Alonzo Gee. Also, the PA announcer called him "Anthony Gee" after he scored his first basket.
This was a miserable, miserable, experience and game. The Lakers didn't beat the Cavs in an athletic competition: they empirically proved that the Cavs did not belong on the court with them. This is rock bottom. Abandon all hope. Until later.