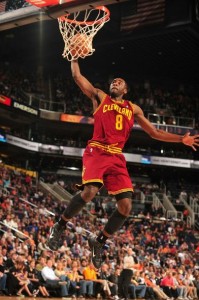 Just to confirm, Anderson Varejao is indeed done for the year. And Clevelanders once again look to the heavens, wondering if someone's asleep at the wheel or if this is happening on purpose.
"With Anderson Varejao lost for the season to a torn tendon in his foot, Hickson is a starter again. Only now he's playing center instead of forward, which may be a good thing, because it will force him to stay in the post rather than launch long jumpers from the perimeter." [Jason Lloyd]
"[It] would make sense for Gilbert to root for Manny Harris. Both are Michigan products, and let's face it Gilbert has a vested interest in Manny's success. If the Cavaliers can find a starter for the future out of an undrafted rookie free agent, that looks good for the organization. It also means they can look at other positions in the draft. It is certainly way too early to call Manny Harris the future of anything in Cleveland, but he certainly has one fan already." [Rick of WFNY]
"[This] team missing the playoffs could be a good thing in the long term. Almost every NBA team that has a period of success has a long, slow, drawn out fade back to the bottom before they can return to prominence. It appeared that if the Cavaliers did make the playoffs, or if they made short sighted moves with their acquired assets to salvage some semblance of respectability, that they too would fall into this trap. Barring any drastic changes, this team is on pace to earn a ton of ping pong balls in the lottery and earn a top draft pick, which gives them a chance to hopefully acquire a young star player to rebuild around." [Andrew of WFNY]
To cap off an especially WFNY-centric links section: in case any of you haven't noticed, WFNY now has its very own section on Cleveland.com. Which: congrats to our colleagues over there. Today, Scott Sargent writes a piece about what the 2002-03 Cavaliers (the last Cavs team to perform as dismally as our current-day squad) are doing in 2011. If we can extrapolate from Sargent's piece, a limping Leon Powe will be putting up 12-10 in Greece in a few years.
On The Twitters
"On this date in Cavs history – 1/10/2003: The Lakers beat the Cavs 115-99 behind Kobe Bryant's triple double 24pts/11asts/10rebs" [realcavsfans]
"#Cavs Christian Eyenga sitting out practice with R anlke inj, in walking boot! Getting treatmt" [Mary Schmitt Boyer]
"Mavericks have signed former #Cavs guard Sasha Pavlovic to a 10 day. Some of you have asked about him in past." [Jason Lloyd]