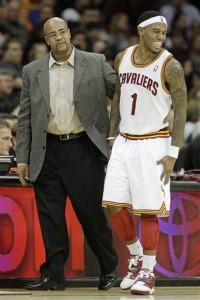 Abbreviated links today, y'all. Just got back to my building to discover the power's out, and now I'm dealing with shoddy Starbucks wi-fi… and my dairy products are shot. There will be no bagels with cream cheese at the McGowan abode today.
In addition to struggling to excel at the game of basketball, the Cavs are currently enduring a nasty rash of injuries. Boobie Gibson did not travel with the team to San Francisco, as he's back in Cleveland rehabbing an ankle sprain he acquired against the Raptors on Wednesday night. Joey Graham is also out with a right quad strain and Anthony Parker, Anderson Verejao, and Leon Powe are all questionable for tonight's game against the Warriors with various ailments.
J.J. Hickson's unofficial suspension will apparently last no longer than one game, as Byron Scott says he is slated to play in tonight's tilt. Scott claims he's not clashing with Hickson and that the young power forward has learned his lesson.
This isn't the main angle of Rick Noland's article, but his piece further illuminates a growing trend: there have been a lot of quotes from Cavs players and coaches lately that they're not communicating very effectively at the defensive end. The Cavaliers don't have the athletes to be an elite or very good defensive team, but the least they can do is communicate, no? Perhaps it's a product of young players being integrated into the rotation, but no matter the team's skill level, enough hours in practice should remedy that problem. Emphasis on "should."
On The Twitters
"Getting on this west coast really mess your sleep up. I been up since 5am." [Mo Williams]
"Cavs are embarking on 5-game West Coast trip with the worst record in the NBA. #Cavs" [Bob Finnan]
"Monta Ellis could very well go for 40 points tonight – may be fun to watch from a basketball standpoint. Not so much from a #Cavs fan's." [Scott Sargent]