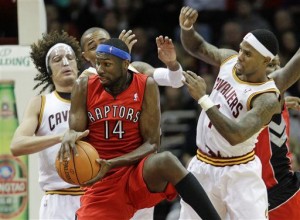 You may have noticed that J.J. Hickson was DNP-CD'd last night. This is due to the fact that he missed a mandatory workout on Monday. On its own, the incident isn't a huge deal, but given Hickson's inconsistent effort and ostensible unwillingness to accept responsibility for his shortcomings, it's probably time to admit the guy is not nearly as committed as we would like him to be. Dude needs to get his head right or ship out.
In Mary Schmitt Boyer's post-game wrap-up, she characterized the Cavs as a "terrible team that is getting worse." It has been well-documented by The Blog and other outlets just how atrocious the Cavaliers' defense has been this season, and Boyer further bemoans that no one in the locker room "seems all that upset about losing." As the losses pile up like so much wintry precipitation, it's easy for a defeated numbness to wash over fans, but the facts are sobering: this team has been breathtakingly awful since its decent start, and it's going to take a ton of work to make them competitive once again.
"Whatever [Scott]'s trying to get across to his players, it isn't working." [Bob Finnan]
"Losing to Toronto (12-23), which had just four road victories coming in and is the worst 3-point shooting team in the league, should not be easy, but the Cavs had absolutely no trouble turning an early 15-point lead into another run-of-the-mill 15-point loss at home." [Rick Noland]
"Every time I think we're taking a step forward, we take two steps back, especially on the defensive end." [Byron Scott via WFNY]
No Twitter today for lack of anything interesting. But always remember: when hiring a homeless man in an attempt to divert attention away from your horrendous basketball team, try to look into if he's been in and out of court for the past 20 years on various misdemeanors.