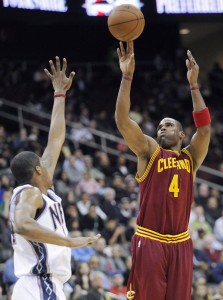 WFNY's Scott Sargent has a piece about the recent speculation as to where Antawn Jamison will land in the coming month or so. Apparently, there have been unconfirmed reports that third-party scouts have attended a Cavs practice and that Jamison has "played himself into a level that is second only to Anderson Varejao in terms of trade value." I'm pretty sure this qualifies as good news. Soak it in, Cavs fan brethren.
"Despite Byron Scott's bold proclamation last week that the Cleveland Cavaliers could still make the playoffs, reality dictates they are on a collision course with Ping-Pong balls. Lots and lots of Ping-Pong balls." [Jason Lloyd]
Both Anderson Verejao and Boobie Gibson will be back for tonight's tilt at Toronto. Andy has been outfitted with a mask to protect his still-fragile right cheek bone. The Cavs will unfortunately be sporting the rather hideous 2011 edition of the CavFanatic jersey tonight as well.
Oh, and remember the homeless guy with the awesome radio voice? The Cavs have offered that guy a job doing voice-over work. There's a deep, depressing metaphor in there somewhere, but, I mean, good for him.
On The Twitters
"Whenever I read the "Cavs offered Ted Williams a job" I imagine a frozen head sitting in between AC and Fred." [realcavsfans]
"Terrelle Pryor just sold that homeless man's Golden voice." [Scott Sargent]
"How long until the Sugar Bowl MVP trophy winds up on e-Bay?" [Jason Lloyd]