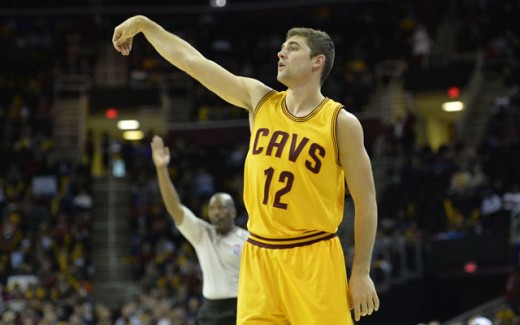 Four points I'm thinking about the Cleveland Cavaliers in Summer League…
1.) It sure was nice to see Joe Harris finally shake off… well, whatever he had to shake off in order to get the ball to go in the hoop. Harris "exploded" for 13 points, 10 of which came in the fourth quarter and overtime, as the Cavs Summer League team clawed its way back from a 21-point deficit to notch a 94-87 OT victory over the Milwaukee Bucks. Harris had been a combined 4-20 from the field (1-9 from three) through the Cavs first two Summer League contests, so seeing him nail 4-8 from deep against the Bucks seemed to indicate that the second year swingman out of Virginia can actually do what the Cavs will need him to do if he is ever going to crack the regular season rotation.
It wasn't just Harris' shot that gave Cavs fans so little to hope for when thinking about the future of the team's 2014 second round pick. He was also a -12 and -14 respectively in his first two games before leading the team with a +21 in Monday's match-up.
2.) Regarding Harris, Northeast Ohio Media Group's Chis Haynes reported the following:
General Manager David Griffin isn't too worried about Harris' shooting woes as he's here to work on his all-around game. He has shown that his ball-handling skills and decision-making has improved, so it hasn't been a complete disaster.
While common practice is to think that anyone who can even sniff an NBA roster spot should be able to dominate Summer League, there are plenty of stories of Summer League stars who could never translate that success onto the parent teams, and there are players whose games just don't really jive with the way most Summer League games are played.
Also, there is a difference between players who have guaranteed contracts for next year and those who don't. Harris is under contract for the 2015-16 season with a team option for the following year, so there are ways in which he can worry about working on his "all-around game" while other players need their skill sets to shine on the court to tempt and tantalize GMs around the league, as well as abroad.
3.) I remember watching Tristan Thompson play in the Las Vegas Summer League back in 2012 and wishing I'd seen a bit more from a player that the Cavs would be counting on in the 2012-13 season. In four games, he averaged 10 points and 3.8 boards in just under 16 minutes a game. He played over 20 minutes a game in the team's two losses, but only averaged 9 minutes a game in the team's wins. Offensively, he looked effective shooting 60% from the floor (only 50% from the free throw line), but he often got caught giving up deep position while defending the post, and he wasn't exactly dominant on the boards either. For what it's worth, Rakeem Christmas is currently averaging more boards (5.3) per Summer League contest than future double-double machine Thompson did back in 2012.
Thompson wasn't bad in 2012. He just didn't seem to be as good as Cavs fans thought he should look after playing big minutes during his first pro season.
Needless to say, the 2012-13 Cavs were relying on Thompson's development a whole lot more than the 2015-16 version is relying on Harris. No one's predicting Harris to be contemplating a near-max contract in two years (as Thompson is now), but it's just to say that the microscope of Summer League isn't always without its distortions. Role players tend to get overshadowed by point guards and guys who can get their own shots. Harris, meanwhile, wasn't even the primary scoring option on his team at Virginia. So, while he hasn't necessarily given Cavs fans reason to go out and get his face tattooed on their legs just yet, there's still no clear evidence that a little extra patience now could well pay off down the road.
4.) In non-Harris news, one of Christmas' skills that looks like it could be as good as advertised is his free throw shooting. Over the first three games, Christmas is shooting 67% from the charity stripe — which won't exactly conjure up memories of Mark Price seamlessly hitting freebies — but he's getting to the line an average of eight times a game, and shooting well enough to make teams pay for putting him there. Against the Bucks, Christmas scored all eight of his points at the line (going 8-12) while also grabbing 11 rebounds.
Against Brooklyn on Saturday, Christmas blocked four shots.
He'll need to get stronger in order to be a consistent high-motor banger type, but he has clear transferable skills going from college to the pros. Hopefully, the Cavs will start scoring a little easier, and we'll get to talk about a few more games in the Summer League tournament before the Cavs time in Vegas comes to a close.
The Summer League tournament begins Wednesday. As I'm typing this, the Cavs opponent is the always feisty TBD.