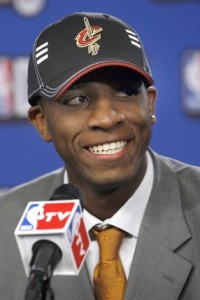 "Cavs fans were given a taste of Christian Eyenga on Sunday night, and by all accounts, it was hard not to like what they saw. In his 15 minutes, Eyenga showed athleticism, hustle and a refreshing energy. It wasn't pretty, but it was something. And with his 4 points and 3 rebounds, I found myself asking, is it time to turn it over to the youngsters for good?" [Martin Rickman]
"As the Cavaliers sit with a conference-worst record of 8-26, Byron Scott will be forced to turn the team over to his younger players.  Testing the waters with young, athletic swingmen like Alonzo Gee and Christian Eyenga (the 284th all-time leading scorer in franchise history!) will be the only way that Scott can see what he has as a foundation while the front office looks to take the proper steps for successful rebuild.  That said, expect a lot more of Eyenga in the coming games as Scott will continue to see just where his rookie's energy and athleticism can take him." [Scott Sargent]
In other Cavalier Young'n News, Byron Scott and J.J. Hickson had a sitdown at some point in the last week that Jason Lloyd characterizes as "brief, stern, and one-sided." As we're well aware, the two have been bickering at one another via post-game quotes for the majority of the season. There are two seemingly arbitrary gestures in sports locker rooms: the player's only meeting and the "clearing the air" talk between coach and player. If J.J. finally "gets it" because of his sitdown with Scott, I'll happily eat my words.
After looking like a downright awful offseason acquisition over the first quarter of the season, Ramon Sessions has been one of the Cavs' most effective players of late. Jodie Valade of the Plain Dealer contends that Sessions may have simply needed time to adjust to a new offense and new teammates and Bob Finnan cites that the former Timberwolf's jumpshot has been markedly improved over the past few weeks.
Injury note: both Boobie Gibson and Andy Verejao expect to play tomorrow night against the Raptors.
On The Twitters
"I can't want until the phony Heatlemania has bitten the dust." [Kurt Helin]
"If you haven't seen Kemba Walker play I do suggest you tune in. The kid has Barry Sanders type moves with the ball in his hands." [realcavsfans]