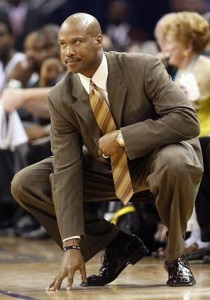 Byron Scott is still clinging to playoff aspirations, or at least that's what he's telling the media. The last team to make the playoffs after starting the season 8-22 or worse was the 1984-85 Cavs. No, not the last Cavs team: the last NBA team.
Following Jawad Williams' release, the Cavs held an open audition for the Cleveland native's roster spot. They settled on Alonzo Gee. Gee, a 23 year old out of Alabama, has played for both the Spurs and Wizards this season. In 2009, he was named the NBA D-League Rookie of the Year, averaging 21 points and 6.6 rebounds per game with the Austin Toros. It's not clear whether Gee will be slotted into the rotation immediately, if Manny Harris will see the bulk of Jawad's minutes, or if Byron Scott has something else entirely in mind, but one can assume Gee will get some burn at some point in the near future., if only for tire-kicking purposes.
The Beacon-Journal's Jason Lloyd reports that the Cavs' decision to move Samardo Samuels to the D-League is simply to get the rookie some floor time. Samuels has played in only four NBA games this season, averaging 4.5 minutes per game.
For those who remember the NBA in the roaring 80s (or for young'ns such as myself, have watched the Pistons, Celts, and Lakers teams of the 80s on VHS tapes or NBA TV), Byron Scott was something of a tough guy in his day. Scott has been laying the "In my day…" rhetoric on rather thick lately, deeming the effort of today's NBA players as "scary." Then again, we Cavs fans have endured stretches of basketball that could, at best, be described as "lackadaisical" and, at worst, "completely lifeless," so maybe Scott has reason to be so curmudgeonly.
On The Twitters
"There was no need for LBJ to backtrack on contraction. He was honest, wasn't baited, and made some good points that stirred debate. I like." [Ken Berger]
"Gee mentioned his athleticism multiple times. Says he's a "high energy" guy. #Cavs" [Scott Sargent]
"Eyenga will remain in Erie for at least a few more games, then #Cavs could make decision to bring him back" [Jason Lloyd]
"You don't cut a rotation player no matter how bad he is before you have to. Cavs are surely close to making a move." [realcavsfans]