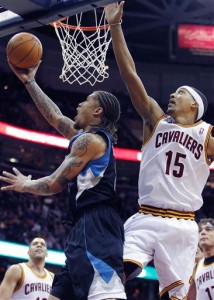 This is one of those games that's best summed up by a quotestravaganza:
"This was a team that still knew how to win. This was a team filled with veterans who were around for 127 victories over the last two regular seasons, and those veterans would be counted on to win tight games." [Jason Lloyd]
"The Cavs, who played without Daniel Gibson (flu-like symptoms), got a great game from Anthony Parker (season-high 21 points, seven rebounds, season-high seven assists), 17 points, five boards and 11 assists from Williams, 11 points from J.J. Hickson and three big 3-pointers from Jawad Williams, but they fell apart down the stretch instead of burying the Timberwolves when they had the chance." [Rick Noland]
"It's been a long December for the Cavaliers. The longest seven minutes of it may have happened Sunday night." [Zac Jackson]
"The last three minutes, we really had the game. Defensively, we kind of stopped playing. Offensively, the ball was kind of sticking, but when it was passed around, we let the shot clock get to seven or eight seconds and then it was like nobody really wanted to shoot it. (We) were almost scared to win the game. When you want to win the game, you have to go and take it. That's the bottom line. I thought we were kind of passive on both ends of the floor the last three minutes of the game and it cost us." [Byron Scott]
There are two ways to look at this game: either the "Worst. Loss. Ever." angle the media is taking or the "Here's to better lottery odds!" angle. I'll be comforting myself with the latter and repressing the former.
Oh, and here's an excellent piece from WFNY that examines Mo Williams' strange season. An example: his percentage from beyond the arc is just 28.3%, but he is averaging 8.9 assists per game throughout the month of December. And his scoring from game to game is all over the place. Again, weird season for Mo.
On The Twitters
"Not much to be said about last nights game that hasn't already been said 21 other times this year." [realcavsfans]
"The transformation of Mo from SG in a PG's body to an actual distributor has been one of the more bizarre aspects of the Cavs this season" [RockWFNY]
"#Cavs have released Jawad Williams" [Jason Lloyd]