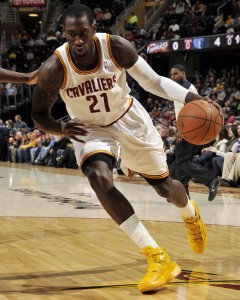 In the ongoing saga that is Byron Scott trying desperately to find a lineup combination that doesn't struggle mightily, he claims he's going to shorten the rotation considerably over the next week or two. As Mary Schmitt Boyer observes: "[Scott] used just eight players at Miami. The only reserves who played were J.J. Hickson (19 minutes), Joey Graham (16) and Ramon Sessions (11)." That trend will apparently continue, and if Scott is in the business of winning games, it's probably his best option considering this team possesses a small number of players who are good at basketball.
Unsurprisingly, no Cavalier is coming close in the All-Star voting. You're telling me Boobie Gibson isn't a top 4 point guard in this league? Well, then you are a very reasonable man, sir.
Joey Graham tweaked his quad against Miami and will be a spectator for tonight's game against the Pacers.
Let's Talk About Our Feelings
Since there is a rather paltry selection of links today (a lot of Cleveland blogs and newspapers are talking Browns and Cleveland State basketball at the moment), I thought I'd engage you guys in the comment section a bit. Let's talk about the enigma that is J.J. Hickson.
In the Cavs' first eight games, he averaged 16.5 PPG on 52.1% shooting and was getting to the line 5.3 times per game in, on average, 27.6 minutes. Byron Scott's criticisms of his rebounding are supported by the numbers, as even when we remember him as "on his game," he was pulling down only about 6 rebounds each night, and his defense remains either "a work in progress" (optimistic) or "pretty awful" (pessimistic).
Since then: woof. You don't need me to crunch the numbers. On offense, he's forced things, disappeared for large stretches, and generally done little but throw down a dunk or two per game. On defense, he's regressed, if that was even possible. His responses to Scott's motivational tactics have not been positive; it seems like he just doesn't get it. Scott tells him to work harder on the boards and the defensive end, and either: a.) he is trying as hard as he can and is simply unsuccessful, or b.) he literally doesn't know what that means.
So what is J.J.'s future with this team? Does he have one? Do we hold out and hope he starts putting up 19-7 by the time he's 24? What kind of trade offer would it take to send him packing? Please answer using only quotes from Francois Truffaut's Jules et Jim. (But seriously, answers of any kind would be much appreciated.)
My abbreviated take: I have serious doubts that Hickson will ever grow into a player who can be a starter on a really good team. His basketball IQ just isn't there, and he seems to have a confidence (arrogance?) about him that is detrimental to his development. If some GM or scout has been watching Cavs games and thinking "That guy is a tremendous talent who just needs a change of scenery," then let's see what they have to offer in the way of draft picks and talent. I don't think the Cavs should move him for cap space/late-first round draft picks and a bag of potato chips simply because Hickson is 22 and we know he can play really well, if sporadically.
On The Twitters
"The significance of Graham's injury is he's someone who could guard Pacers forward Danny Granger." [Bob Finnan]
"The problem with watching games and having my 2-year-old in the room: The KIA hip-hop hamsters ad comes on and we have to watch it 5 times." [Kurt Helin]
In reference to the "Morgan Freeman is dead" rumor that lasted about 45 seconds: "Sorry for that guys. Technology is really great… until it isn't." [Jason Lloyd]