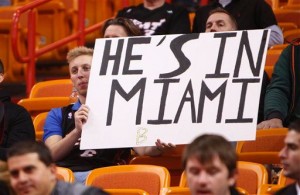 $20 says this guy can't tell me where Mario Chalmers went to college.
I'm ambivalent about the news coverage that's followed the Cavs defeat last night in Miami. Don't get me wrong, I loved what I saw last night, for the most part. But it's sad that the Cavs have sunk so low that they're spoken about in the same terms one might use to encourage a six year old tee-ball player. "Good job, guys! Good effort!" It's indicative of a depressing reality. Anyway, here is that media coverage, for your perusal.
"Give them the nod. Mad props this morning go out to the Cleveland Cavaliers and Head Coach Byron Scott. Last night, they rolled into Miami on an eight-game losing streak to take on the red-hot Heat, winners of nine straight. This was a true case of two teams going in opposite directions." [TD of WFNY]
"Although the Cavaliers lost to the Heat, 101-95, in American Airlines Arena, extending their losing streak to nine games and falling to 7-18, they went down fighting every step of the way." [Mary Schmitt Boyer]
"They succumbed to the Heat at AmericanAirlines Arena, 101-95, but went down fighting." [Bob Finnan]
"There may be few moral victories in the NBA, but the Cavs knew they had played their best basketball in weeks, no doubt fueled by playing against their former teammate LeBron James. Despite their best efforts, though, the Heat's talent was eventually too much to withstand for the entire game." [Surya Fernandez]
"What is that feeling? First let us put that on hold for a second, as we preempt this feeling by saying, it was good to see the Cavaliers give a more physical effort – or any effort at all – in Wednesday night's loss to the Miami Heat by a margin of six points." [T.J. Zuppe]
And as always, here's Mary Schmitt Boyer's weekly podcast. She discusses Jamario Moon, Leon Powe, and who the best player on this team is, precisely.
On The Twitters
"#Cavs coach Byron Scott gave his starters the day off, but was pleasantly surprised they all showed up on the bus for practice anyway." [Mary Schmitt Boyer]
"As for the game itself, it has slipped out of the Cavs reach, but tonight was a great effort from this team. No shame in the way they lost" [RockWFNY]
"By the way, there's been virtually no contact between LeBron and ex-teammates tonight. Not even eye contact." [Brian Windhorst]