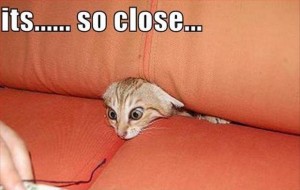 We can almost taste it.  That is, everyone except for Tom (love ya, buddy).
In our email chains since game one, I will openly admit that pretty much everyone involved in C:TB has spent far, FAR more time talking about the Warriors than the Hawks.  Actually, I'm not sure I can remember a single instance of any of the bloggers discussing the Hawks for any extended period of time.
But, and I don't think I'm too far off-base here, I'm guessing that's where most Cavs fans are right now.
Really, is that surprising?  I think we can be forgiven if we're not terrified by the name "Kent Bazemore" in the starting lineup.  Nor are we intimidated by a hobbled Demarre Carroll.  Long, long gone are the days of us worrying about Kyle Korver going off, and it would appear that the offensive rebounding tandum of Tristan and Mozzy are too much for what we can now understand to be an undersized Hawks front court.
Still, it seems naive to look too far ahead.  For one thing, a year ago even being at this point seemed way outside the realm of reality – maybe it's time to enjoy the trip we're on.  For another, the Hawks certainly aren't dead yet.  Just ask the Clippers.
Finally, there ain't no way ANYONE is matching up with GS with a hobbled point guard.  Fingers crossed that brace works, Kyrie!
I don't want to be a Debbie downer – I still have complete faith of where this is going.  JR is the man, TT and Timofey are WAY more than we thought they were, and Lebron is finally back to being Lebron; those things (especially the last) will always give the Cavs a chance.  I'm just here to put it all into perspective – lets not get ahead of ourselves, take this one day at a time, and enjoy awesome basketball as long as we can.
And for God's sake, lets pray Draymond Green can't shut the King down in a seven game series!