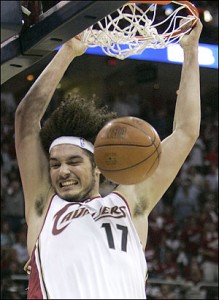 One of the few bright spots for the Cavs fans this year has been watching Anderson Varejao play basketball with reckless abandon. I love that guy for going out every night and working his butt off. I would hate to see him go, but his destiny is to be the sixth or seventh man on a championship team.
It's sad when Mary Schmitt Boyer has to write articles about how the Cavs are coping with just how depressing their season has been. It's like the Cavs' locker room is an orphanage or something.
"No matter how Scott rearranges the pieces, this roster is riddled with holes. Every adjustment reveals a different flaw. The only way to really patch things up is to make additions, and the only way to make additions is to start cutting salary and cashing in on what value the roster has left." [Rob Mahoney]
It turns out, as one you guys in the comment section pointed out, that when you start your best players, your bench gets worse. Weird.
"In 16 words, Byron Scott finally conceded Sunday night what the organization has hesitated to say since LeBron James left. The Cavaliers are rebuilding." [Jason Lloyd]
"I PERSONALLY GUARANTEE THE CLEVELAND CAVALIERS WILL PROVIDE YOU WITH MILK AND COOKIES IF YOU VISIT US THIS CHRISTMAS EVE" [Not Dan Gilbert]
On The Twitters
"I'm working on a project that is forcing me to read the players tweets… Gibson is sounding a lot like Creflo A Dollar." [realcavsfans]
"Knicks say eddy curry didn't practice because he has a cold." [Barbara Barker]
"Shouldn't we all be blasting Cliff Lee for leaving his team to join up with a bunch of superstars for a little less money?" [Kurt Helin]