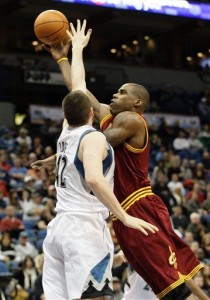 It's terrifying what qualifies for consistent, solid play on this Cavaliers team, but one could argue that Antawn Jamison has been the best player for the Cavs over the last few games. Y'know, the ones where most of the team has rolled over and died. He's averaging 16 points per game on 42.5% shooting in games against Miami, Minnesota, and Detroit. Regardless of how pedestrian those numbers are, he's one of the best trade chips the Cavs have, especially if a contender can convince themselves that he'll be able to play the stretch four and space the floor on offense. Despite the vague trade rumors swirling around Jamison, he's been saying all the right things to the media because he's the definition of a class act. He's told the Plain Dealer that "I'm not going to sit here and say I'm going out there to play well so they can increase my value as far as a trade." See? The guy's, a pro. Seriously though: Antawn, go out there and increase your trade value. It's the best way you can help the team.
Speaking of Jamison, who captained the Wizards' ship through the whole Gilbert Arenas fiasco last year, he says the Cavs level of panic is "not quite there yet. Not yet." When you're saying to yourself, "well, at least this isn't as bad as the time one of our best players implored another player to shoot him in the knee with a real handgun, destroying our entire season in the process," it's been a rough year.
Rick Noland claims that any lineup tweaks Coach Byron Scott makes will be useless until this team starts playing with some genuine effort. As Noland notes, this team has gotten down lately and decided "eh, guess we're going to lost tonight." I'm not a proponent of lineup tweaks so much as sending in the rookies. One can presume they will, at the very least, hustle their butts off.
Yannis Koutroupis over at Hoopsworld thinks that, rather than trading for young players, draft picks, and/or cap room, the Cavs have to make a move for someone like Andre Iguodala or Rip Hamilton. We've discussed this on The Blog, but this seems sorta ridiculous, right? Acquiring an overpaid good to pretty good player in return for, say, part of our trade exception and J.J. Hickson just so that this team can finish 8-10th in the Eastern Conference seems foolish. I'm not nuts about Harrison Barnes, nor do I have tremendous faith in Perry Jones, but I'd rather roll the dice on a 19-20 year old with potential and a rookie contact than acquire an albatross of a contract that gives us a chance to be mediocre.
On The Twitters
"I'll just ignore Amare posting up Corey Brewer and jack this long 3 instead. Money….." [John Hollinger]
"If the league is struggling and hurting so bad, how are these teams getting bought up for premiums?" [Jeff Pendergraph]
"Like Varejao, I too "wouldn't mind" retiring in Cleveland. Unlike Varejao, I'm not the most desired trade chip for a rebuilding franchise." [Scott Sargent]