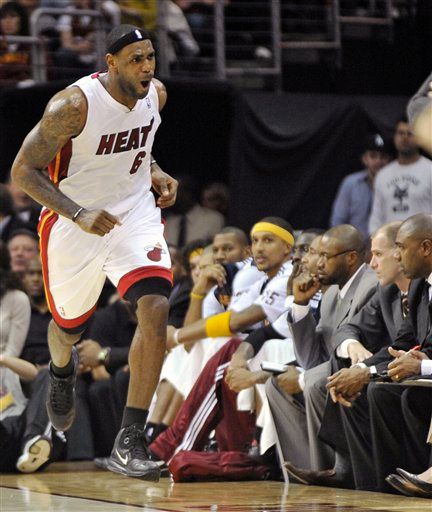 Editorial statement: it hurts. It hurts a lot.
(Deep breath.)
Okay, let's do this.
This is the kind of hateful creativity Cavs fans displayed last night. Unfortunately, the Cavs offense was, um, less creative.
This might be the most poignant moment of the night. As Dan Devine writes, "that's a friggin cascade of boos."
"On Thursday night, LeBron finally looked like LeBron again. Maybe he needed his old court. Maybe he needed to taste the bile of 20,000 Ohioans. But I thought it was one of his greatest nights; instead of folding like a portable stripper's pole (like in the Boston series), he rose to the occasion and even relished it. Of course, greatness usually has a casualty: in this case, Cleveland. The fans made their point (and then some), never disgraced themselves and were betrayed only by their own players. They deserved better in July; they deserved better Thursday night. Even afterward, LeBron refused to show remorse or acknowledge that the fans affected him. They couldn't even win that." [Bill Simmons]
"James answered the fans by reminding them what they'd lost and did it the same way he'd won them over. Right down to the few square feet he made a centerpiece of during his days as a Cav." [Brian Windhorst]
"The Cavaliers, 7-11, did not want to win Thursday's game with anywhere near the intensity of their fan base. If they did, someone on their roster would've planted James on his rear early in the game. Some Cavalier would've sent James a message." [Jason Whitlock]
"In a game that not only didn't live up to the hype but was so one-sided that even the jilted fans barely worked up enough enthusiasm to continue their verbal onslaught, the star-studded Miami Heat finally looked like the team everyone thought they would be in a dominating 118-90 victory over the pathetic Cavs Thursday night in The Q." [Mary Schmitt Boyer]
"Throughout the first half, as LeBron James was trying to get into a flow, he could be seen smiling, joking, talking with Cavaliers coaches and players.  At different time, LeBron had some fun with Daniel Gibson, Chris Jent and J.J. Hickson.  To be completely honest, the sight of it sickened me.  What has been missing in LeBron's game all season – the fun – came back tonight and much of it was provided and enabled by the Cavaliers.  It was like LeBron had never left." [John Bena]
"It is all over now Cavs fans.  We have had our chance to say all the things that we were feeling since we were trounced upon so many months ago.  Despite the whole thing being put in a fishbowl as if Cleveland fans would provide the blood and gore of a grotesque cock fight, we came out looking very good.  Don't let anyone tell you differently." [Craig Lyndall]
"By the end of the game, fans became aware that – at least on that night – they were on their own.  The night was about them more than it was the New Expression of a team they adore.  There was no cheering when Gibson was given a technical foul for jawing with Miami's Eddie House.  There was no unified response to James as he walked off of the court and into the waiting arms of TNT's Craig Sager.  The mortar that was holding together the fanbase of bricks had thinned on national television, leaving fans to wonder what it is they are cheering and giving unconditional support for every given night." [Scott Sargent]
On The Twitters
ESPN's Kevin Arnovitz and Tom Haberstroh collected a bunch of tweets made by NBA players and media throughout the night. It's kind of disconcerting how many NBA players were in support of LBJ's decision and were wishing him the best.
Dan Gilbert was understandably upset after the loss, and he took to Twitter in an attempt to reassure Cavs fans. Personally speaking, two tweets do very little to quell my violent nausea.
"Daniel Gibson said what looks like smiles & laughs with #LeBron weren't. Some things were said last night that hurt friendship, he said." [Mary Schmitt Boyer]
"It's 5:30am. I still aint closed my eyes. Cleve deserved a win tonight. We let u down. But know that our hearts was out there also.LOVE YALL" [Mo Williams]