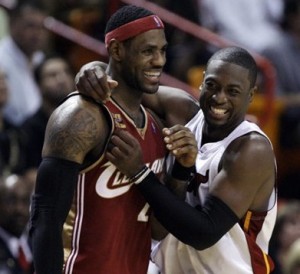 Mary Schmitt Boyer has pored over the numbers and come up with a few ways to beat the Heat. Some pretty basic stuff here: rebound, extend the defense, and dictate the pace of the game early. The two teams' rebounding numbers are virtually identical, and the Cavs offense, ranked 27th in the league in points per game, probably won't blow Miami out of the building. There's a strong chance the Cavs are going to have to defend and grind this thing out. Here's the troubling thing about that: the Cavs are giving up 103.4 points per game against teams with winning records.
This article from Douglas DiLillo about Tuesday's loss to the Celtics delineates what the Cavs are going to need to accomplish if they want to defeat their new rival: namely, defend the paint. Rondo slashed to the basket with ease a couple nights ago, and both LeBron and Wade are excellent at attacking the basket. The guards and wings need to move their feet and the help defense needs to come swiftly.
Obviously, there are a billion and one "LeBron Returns to Cleveland" articles today. Here are the best of the bunch:
Windhorst has another special feature to the Plain Dealer, this one about the vitriol LBJ is enduring in opposing arenas around the NBA and how he is preparing for a game in the arena that hates him the most. He also wrote a piece for ESPN about the Cavs' post-Decision disintegration.
John Bena's reaction to tonight's game? Not anger, but sadness.
"You've earned that white horse. Please don't put it down." — Kelly Dwyer of Ball Don't Lie imploring Cavs fans not to screw this thing up.
"In his heart of hearts, he knows that he'll never play for a city like this ever again. The loyalty they showed, the love they showed. He knows that. He may not say that. I know it." [Boobie Gibson]
On The Twitters
"CavsFans: Remember 2 most import things 2nite: 1. That City, Fans, & all of us be our 'finest' w/eyes of world watching. 2. We get the WIN!" [Dan Gilbert]
"Funny premise just told to me: A Duracell battery commercial showing Cavs fans chucking them at Lebron – 'Duracell Trusted Everywhere'" [realcavsfans]
"#Cavaliers guard Mo Williams on #LeBron's return: "'It's almost like your ex-girlfriend coming to your wedding.'" [Mary Schmitt Boyer]
"Sad but true: If LeBron had a DUI + assault charge this summer but stayed w/Cavs there'd be 19,000 cheering him tonight." [JA Adande]