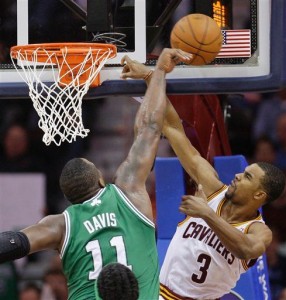 So that Celtics game was sobering, huh? It's been a nagging whisper for the past couple weeks: after capitalizing on a slew of winnable early-season matchups, we're starting to see that the ceiling for this Cavs team might not be very high. Against elite competition, at home, the Cavaliers were beaten to a pulp by a much better Celtics team. Byron Scott is preaching patience, stating that the Cavs will be "fine." WFNY's Scott Sargent wonders if "being fine" will be enough.
The main reason the Cavs lost last night: the Celtics went Waka Flocka (hard in the paint) all over the Cavs' interior defense. Rondo got into (Hubie Brown Voice:) "the painted area" at will, and even reserves Glen Davis and Marquis Daniels got good looks when they posted up their defenders. I'm not sure how the Cavs are going to fix this problem, but Varejao can't defend all five offensive players.
Post-game quote round-up from Fear The Sword. When Paul Pierce is using the game Marquis Daniels just played against you as a paradigm for what Marquis Daniels needs to do "on a night in, night out basis," you can bet your bench didn't play very well.
I know I claimed there would be no 'Bron links until after the Heat game, but I was anticipating an endless string of speculative minutiae about chalk-tossing and whether Cavs fans were going to start a "Delonte" chant tomorrow night. It's nice to be wrong sometimes. First, a massive Outside the Lines feature by Wright Thompson about how the city of Cleveland has been coping since LBJ's departure. It's a 7500 word article, so I won't try to summarize. just head over to ESPN and spend 15 minutes with it. And after you read that piece, here's a spirited response from FTS' Martin Rickman.
Also, Jason Whitlock has a really incisive take on how LeBron's hubris is poisonous to his teammates, his coaches, and himself. It's the best thing I've read all week.
On The Twitters
"Refreshing. RT @FSOhioZJackson: Williams: I can't tell fans what to do. All I can ask them is to be respectful" [WFNYRock]
"#Cheetos RT @talkhoops Seriously, JJ Hickson's shoes look like they were dipped in radioactive mustard." [Scott Sargent]
"Today is World Aids Day. When HIV affects one of us, it's affect all of us! Are you Greater than AIDS? Click http://bit.ly/d2U2nP & help #RT" [Boobie Gibson]