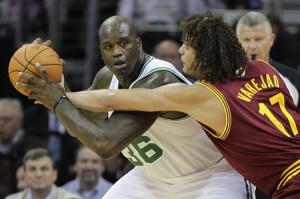 The Cavs are insistent that they're dealing with the task at hand as they take on the Celtics tonight. They've been deflecting LBJ-related questions in interviews, insisting that the Celtics are their primary focus. When asked how he's staying focused in the middle of all this 'Bron-based fervor, Mo Williams replied, "It's easy. I've got Rondo." Which: when your counterpart is averaging 14 assists a game, it's a good idea to devote 100% of your attention to stopping him.
One of the key factors in the Cavs upset of the Celtics on October 27th was their ability to exploit Shaquille O'Neal on defense. Byron Scott claims that the Cavs' approach "won't change" and that they plan to "put Shaq in a lot of pick and rolls." Cavs fans are intimately familiar with Shaq's inability to guard the pick and roll. He rarely strays far from the paint, leaving the dribbler a great deal of space coming off a well-set pick. Williams, Gibson, and Sessions should look to take advantage of that space if the Cavs are going to be successful on offense.
Green Street, a Celtics blog, has a preview of tonight's Cavs/Celts tilt. File this under the "Sneaky Advantage" heading: Boston's bench is rather thin these days due to Delonte West and Jermaine O'Neal's injury troubles. Hopefully the Cavs' bench can exploit the Celtics' lack of depth when the starters are forced to take a breather.
An interesting little piece from WFNY on the Cavs' video production department, which puts together those massive pregame intro sequences.
In "Maybe The World Isn't So Bad After All" News: Rashad McCants, who had a bizarre offseason stint in the Cavs training camp this past summer, is donating his entire D-League salary to charity.
On The Twitters
"Shaq comparing LBJ return to his going back to Orl & LA: 'My situation in Orlando was a 6, my situation in LA was a 7. This is like a 12.'" [Jason Lloyd]
"RT @CoachA12 Derek Anderson… LeBron… Now we just need Braylon Edwards to punch Art Modell and all will be right with the world." [Scott Sargent]