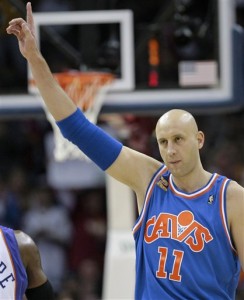 I'm making a conscious decision this week to avoid posting LeBron stories, in part because there's nothing educational about them. We are all intimately familiar with what he did, what it means, and why his return to Cleveland is painful. There's no need to spill more speculative ink about Thursday's Cavs/Heat matchup. If the Cavs upset Miami, if LeBron goes for 50, if a fan does something abhorrent, we'll discuss it on Friday. Until then, let's focus on the 2010 Cavs as they are. The Celtics visit the Q on Tuesday, after all, and they're a better basketball team right now than the Heat.
Nearly lost in all the chatter surrounding a certain Akron native is the fact that, on Thursday, Big Z will also be playing professional basketball in the state of Ohio for the first time since the conclusion of last season. Brian Windhorst wrote a special feature for the Plain Dealer. As is Windhorst's wont, it's an excellent piece delineating Z's offseason and his feelings about playing in the Q once again.
As one of the lone veterans on this Cavs squad, Mo Williams is making an effort to assume more of a leadership role. He also claims to have a "good relationship" with Byron Scott, who, since Mo's return from injury, has often allowed the offense to run through Williams.
File this under the "What's Wrong with J.J. Hickson?" heading: he claims he has "kind of lost what his role [is] on the team." While Hickson finished strong in the Cavs win over the Grizzlies on Saturday, he looked horrendous in the first half, clanking a number of jumpers and bogging down the offense when he received the ball in the post. His recent play, paired with some of the troubling quotes he has produced this year, seem to indicate that his Basketball IQ might not be through the roof. The saving grace is that he's 22, but the past two weeks have been disconcerting.
Scott over at WFNY discusses the pros and cons of the Cavs (hypothetically) making a play for Andre Iguodala, who the 76ers are placing firmly on the trading block. Iguodala's a fine player and all, but his contract pays him "$13.5 million in 2011-12, $14.7 million in 2012-13″ and he has "a player option of $15.9 million in 2013-14." $13-15 million for a player who plays great defense and is a tremendous athlete, but whose career percentages are 46-32-75? (He also takes 3 to 4 three-point shots per game, despite shooting a little over 30% from beyond the arc over the past 4 seasons.) The Cavs are certainly thin at small forward, but giving up picks, young talent, and/or cap space to acquire Iguodala could be disastrous.
Byron Scott was fined $35,000 for his comments after the Orlando game that "It's tough playing five guys in white jerseys and three with stripes."
On The Twitters
"When asked if it was tough to stay focused on Boston w/ LeBron's return looming Thurs, Boobie paused, grinned, & unconvincingly said, 'Nah.'" [Mary Schmitt Boyer]
"Anderson Varejao remains as a "non-contact" practice participant. #Cavs" [Scott Sargent]
"Antoine Walker Planning Comeback in D-League, Per League Sources http://aol.it/gGBljq" [Scott Shroeder]