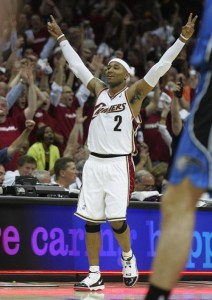 After Mo Williams' fourth quarter heroics against the Bucks, Bob Finnan thinks the Cavs have found their "go-to guy." I have my doubts as to whether Mo is talented enough to demand the ball during every crunch-time possession. The Cavs might be better served to run fourth quarter plays for whoever has a hot hand, but if Byron Scott continues to go to Williams in clutch situations, we'll soon find out whether he has the testicular fortitude to knock down big buckets with regularity.
Beating the Orlando Magic at the Amway Center tonight is going to be a tall task for the Cavs. Jameer Nelson posted a career-high 14 assists as the Magic defeated the Heat on Wednesday, and the Cavs, even with LeBron, haven't fared well in Orlando over the past few seasons, winning only five of their last 19 visits.
With Shaq and Z gone to contenders, it should be, erm, interesting to see how the Cavs intend to guard Dwight Howard tonight. Quoth Byron Scott, "[He]'s a beast down there." The 230-pound Ryan Hollins and a banged-up Anderson Verajao are going to have their work cut out for them, and all the Cavs bigs (heck, wings and guards, too) are going to have to crash the boards to keep Howard from controlling the paint.
Ticket prices for the Return of the (Wildly Unpopular) King are apparently through the roof. If you want LeBron to actually hear the obscenities you're yelling at him, it's going to cost you.
On The Twitters
"#Cavs should immediately be on the phones RT @basketballtalk Nets send Terrence Williams to the D-League http://dlvr.it/9DsFt #PBT #NBA" [Scott Sargent]
"Like vultures, the national media is circling Cleveland hoping that on December 2nd some ignoramus acts the fool." [realcavsfans]
"#Cavs coach Byron Scott's first impression of Magic's new Amway Center: "It's beautiful." We'll see how he feels about it later" [Mary Schmitt Boyer]