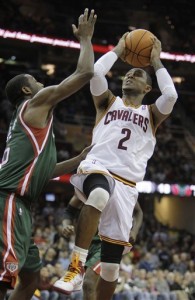 In spectacular fashion, the Cavs won last night thanks to a strong second half effort and the poise of one Maurice Williams. Perhaps the most encouraging sign was that, down 10 at half, the Cavs came out of the tunnel to play an inspired third quarter, which has been a rarity this season. By the way, I couldn't find any reliable info on Boobie Gibson's shoulder, but given that he returned later in the game, it seems he's either fine or day-to-day. I'll scour my RSS feed tomorrow and try to find a reliable update.
Here are a couple of highlights from last night's game via Ball Don't Lie. I enjoyed the Milwaukee Bucks color guy being all "hold on, that's reviewable" after the slow-motion replay clearly confirmed Williams put up his shot with a good half-second on the clock.
Fear the Sword has compiled a quote round-up from last night's win. Not a ton of great quotes in the bunch, but it is interesting that Byron Scott had a "little conversation" with Mo about being "more assertive." Mo is arguably the best player on this team, and it's positive to see Scott is greeting his struggles with encouragement rather than benching him or looking elsewhere on offense.
Byron Scott will be opening his doors to Cavs players who can't make it home to eat Thanksgiving with their families. Call me a sap, but that's an affecting gesture. Also, Christian Eyenga has been called up to the NBA for Thanksgiving so that he can be with the team and eat at Scott's house. He will be sent back to the NBDL tomorrow, as the Erie BayHawks have games both Friday and Sunday night.
This ESPN column's headline implies that the Cavs will be banning anti-LeBron gear when he and the Miami Heat visit the Q on December 2nd, but the article later stipulates that the Cavs will be banning only indecent or crude signage and apparel. Dan Gilbert clarified over Twitter: "ESPN headline is wrong & silly. Obviously no profanity,vulgar stuff U wouldn't want kids 2 see but we are not going 2 be the Gestapo @ The Q." Seems reasonable. And that's really the key word here, guys. I'm fine with booing; I encourage creative, derisive chants; but if you're attending the Heat/Cavs tilt next week, before engaging in something that is outright hateful or offensive, ask yourself "am I being reasonable here?"
On The Twitters
"You mean Mo Williams didn't pass to James Jones for the win?" [realcavsfans]
"Mo Williams referred to LeBron James as 'this other guy' in postgame interview. Very Dan Gilbert. #Cavs" [Scott Sargent]
Have a great Thanksgiving, y'all. This community of Cavs fans has been incredibly welcoming and kind; I'm giving thanks today for an enjoyable first week here at The Blog.