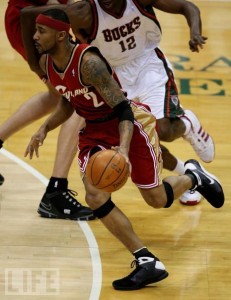 So, the good news is I just moved into a great new apartment. The bad news is that my internet probably won't be ready until Friday or Saturday, so I'm doing this from a Starbucks that has pretty awful wi-fi. The worse news is I'll be running around Chicago for the next couple days buying furniture, food, etc. Bear with me through the rest of the week, Cavs fans. Everything will be back to normal after your long weekend. Regardless, here's what I could cobble together for your perusal:
Brewhoop has a pretty comprehensive look at tonight's Cavs/Bucks matchup. Bogut is doubtful with a bad back; perhaps that means Hickson, Jamison, and Verajao can seize this opportunity and attack the rim against a depleted Bucks front line.
Another look at tonight's game, this time from WFNY. Most interesting tidbit: the Bucks have the worst offense and best defense in the NBA in terms of efficiency. This could be a rock fight.
Byron Scott says that the final two years of his career in Indiana under Larry Brown served as the foundation upon which he built his coaching career.
I don't mean to lean too heavily on the Plain Dealer, but there's a good number of links available here. Among the topics discussed: the spending habits of young NBA players, Indiana's recent victory over the Heat, and the whole "Keep Lebron Off the All-Star Squad" campaign.
On The Twitters
"Just spoke to #Cavs video prod. head – he said nothing was better than off-script Delonte. Was more entertaining than their creative team." [Scott Sargent]
"CavsFans:Honesty only way. No fluff:We need to do better. Have to do & WILL do better.We are all hoping and counting on turning ship 2Nite." [Dan Gilbert]
Cole Aldrich was the 11th pick in the 2010 draft. He's now headed to the D-League. Do we have a term for this? How about "Thabeet-esque?" "Thunder assign Cole Aldrich to D-League http://dlvr.it/96XF4 #PBT #NBA" [Kurt Helin]