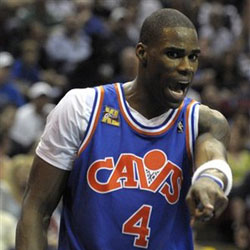 The Cavs may not be the most talent-rich group in the league, but there are a lot of good to serviceable NBA players on this team. Perhaps that's why the Cavs bench, led by Boobie Gibson and Antawn Jamison, averages 47 points per game.
More Cavs bench news: Bob Finnan has a story about Jamison adjusting to his role off the bench. Apparently, though his quotes don't betray much discontent, Antawn has been pretty upset about being J.J. Hickson's understudy, but he's coming to terms with it.
Fear the Sword has some post-game quotes from the Spurs/Cavs tilt on Saturday. In reference to the Cavs defeats in New Orleans and San Antonio, Antawn Jamison had this to say: "We showed signs, but we're just not consistent enough for 48 minutes to be able to compete against these two teams these last couple days." Seems like this mini-road trip has served as a wake-up call.
A little recap of the Cavs' failings in losses at San Antonio and New Orleans from The Cauldron. Samah Assad emphasizes a problem that's plagued this team all year: their intensity tends to dip considerably in the second half of games, particularly the third quarter.
Some number-crunching from Neil Paine over at Basketball Reference reveals that the Cavs' offensive game is exceeding expectations, while their defense is underperforming. I tend to look at stats to see if they match up with what I'm watching on the court, and that analysis seems about right.
The Plain Dealer's Terry Pluto has a smattering of Cavs-related info. The most interesting factoid from the article: Jarmario Moon's averages are 26 minutes, 6.2 points on 42% shooting, and 4.6 rebounds per game. Unless the Cavs start playing Jamison at the 3 (which I personally don't think is a good idea), it seems they might have to accept some paltry production from the small forward spot.
On The Twitters
"Following tonights game, Ron Artest said that Michael Beasley is a better shooter than LeBron but "the smarts are not there." #NBA" [Scott Sargent]
"For those wondering about my Christmas tree topper I went with a wine and gold trimmed angel and added an Andy Varejao style wig to it." [RealCavsFans]
"RT @NBAonESPN: In Marc Stein's (@STEIN_LINE_HQ) Week 4 Power Rankings, Southwest Division's best soar to the top – http://es.pn/9fEWjy"[Marc Stein]