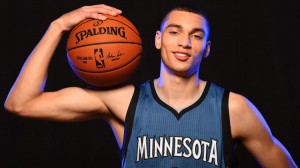 What, you thought I wasn't going to do this again?  C'mon!  Sure, it's Valentine's Day, and sure, Paul McCartney is playing Irving Plaza right now…But IT's ALL STAR SATURDAY!
This is the first time I've watched with the GF…Wish me luck!
8:56 – OK, full discloure, I just got home like 10 minutes ago.  It's Valentine's day, and the girlfriend and I ended up up wandering around for like 5 hours.  I'm exhausted, and I missed the entire Shooting Stars competition. How will I ever forgive myself?
BUT, I have a growler of Sculpin, a growler of a Brooklyn Brewery's new quad, and delicious snacks.  Lets do this! SKILLS COMPETITION!
9:03 – I totally zoned out during whoever just did the skills.  but Lowery and Knight are up.  I'm kind of rooting for Knight here.  YOUNGSTERS!!!!
9:04 – Knight, does it like a pro!  And the fans…Are loving it?  Is anyone actually at this thing?
9:05 – So Knight has to play everyone?  Of course he's going to lose.  Dude is probably exhausted!  And Beverly wins, as Miller comments "I love this competition."  Thoughts?
Harden is pumped.  Probably because he knows he has no shot of winning the 3PT Contest.  Not with KYRIE!!!!!
9:07 – Holy crap this set is amazing.  Where did they even place that thing?  Barclays isn't that big…
9:09 – GIANNIS!!!!!!!!!!!!!   God I love this kid.
9:10 – Does anyone actually like these stupid Sprint ads with the screaming llama and the donkey?  The GF remarks: "I liked the videos like four years ago, when they came out.  Now, though…"
9:14 – Entertainment series?  OK, wake me up when it's over.  Ella Henderson?  The GF's take: "Who?"  And this is her jam, people…
The GF, once she starts playing: "I actually like this song," as she dances around.  Seriously, guys and gals, wake me up when this is over.
Now, if this was Meghan Trainor, I'd be PUMPED.
9:18 – Zzzzz…Huh…wahhh?  It's over?  Thank goodness.  Wait wait wait…The dunk contest is next?  They switched this up on me!
It's cool that Zach LaVine digs Jordan.  Fly, young man!  FLY!  LIKE AN EAGLE!!!!
9:25 – Lotsssss of love from Kenny and Reggie.  Well THIS is AWKWARD….
9:25 (2) – OK, cool, the 3PT Contest IS next.  Anthony Anderson, you lead me astray.  WHY WOULD YOU DO THAT?  LETS DO THIS KYRIE!!!!
9:27 – As Harden comes out, the GF screams "THE BEARD!"   "I'm going to root for him."  Until she sees Kryie.  Lets sway her, Kyrie.  CRUSH THE BEARD!
9:28 – Chuck can't pronounce Korver, and I'm pretty sure Shaq just woke up from a nap.
9:29 – Ohhh, ohhh!  The new Kyrie Footlocker ad!  We already knew this kid could act, but he's doing straight comedy now.  Why isn't Kyrie in more ads?  Way more charisma than even Lebron.
https://www.youtube.com/watch?feature=player_detailpage&v=2BypN1RdzxI
9:34 – Every year they ask about philosophy in the 3Pt contest.  My philosophy?  HIT EVERY SHOT.   Kenny thinks this will look like a video game.  I can't even think of a funny thing to say in response to that because it's so absurd.
9:35 -Holy WES!  22!!!!  He CRUSHED his money ball rack.  Placed that thing perfectly.  He clearly knew where he was shooting best.
9:37 – DRAMA IN THE CONTEST!  Reddick's foot was on the line, so at LEAST 3 points don't count!!!!!!  WOW!!!  Still, great score.
9:38 – SCREW THIS UP HARDEN!  I don't know why I dislike The Beard so much (I love his game…) but I want him to LOSE!
9:40 – AND HE BLOWS IT!  Nice.
9:40 (2) – KYRIE!  DO IT YOUNG GUN!
9:42 – AND WHEN THE LIGHTS ARE ON, KYRIE DOES IT!  23! Reggie "He's a money time player!"  Yes, Reggie, I'm shocked no one picked the former winner to win.
LOVE IT!!!!!
9:46 – Steph is up.  Davidson College in da HOUSEEEE.  And Reggie effin' Miller says he's the best shooter he's ever seen.
9:47 – And Steph TIES Kyrie!  We need two more people to tank!  Klay is up.
9:49 – I've gotta say it again – Klay was the kid I wanted during the draft.
9:49 – CASH RULES EVERYTHING, Kenny exclaims!  What? Klay with 24.  Ludacris says this is Ludacris, by the way…
9:52 – Old man Korver can shoot in games.  But in the contest?  He's out.  Kenny is such a live wire.  Remember Limewire, guys?
9:52 (2) – Marco is up!
9:54 – And Marco tanks!
9:54 (2) – KYRIE!  KLAY!  STEPH!  SPLASH BROS Vs UNCLE DREW!!  WE'VE GOT THIS CAVS FANS!
9:58 – Just showed the GF Uncle Drew during that commercial break.  She loved it.
9:58 (2) – C'mon KYRIE!!!!!
9:59 – Kyrie kinda just laid an egg there, didn't he?  17? Yikes…………….Really Reggie?  You don't think Kyrie finished strong?  NO DUH!!!!
One rack in Steph, the GF can see it – "This kid is gooood."
10:01 – HOLY STEPH!  TWENTY-FREAKING-SEVEN!  27!!! WOW!!!! One of the greatest ever.
Lets see whatcha got, Splash bro!  Balls in your court!
10:03 – Klay laid an even bigger egg than Ky!  Phew!  Steph, you earned this, bud.  Holy cow.
10:04 – Next up, my fav…the DUNK CONTEST!
10:06 – Oladipo!  Love this kid, too.  All Star Sat – where missed Cavs picks go to make me feel sad…
10:12 – Full disclosure – I am SO tired of these State Farm ads.  Except Stockton.  He's cool in my book.
10:14 – To contrast Kyrie Irving is John Wall, who basically has no charisma.  He might as well be a brick Wall (get it?  WALL?)  Did I mention that Kyrie Irving rules?  KYRIE, I LOVE YOU!!!!
GF: "You're ridiculous."
10:16 – Seriously, Anthony Anderson, get off my screen.  WHY CAN'T THEY FIND A BETTER HOST?  Ugh.  BUT…Bernard King!!!!  And I can see Clyde's jacket!
10:17 – McEnroe's beard is awful.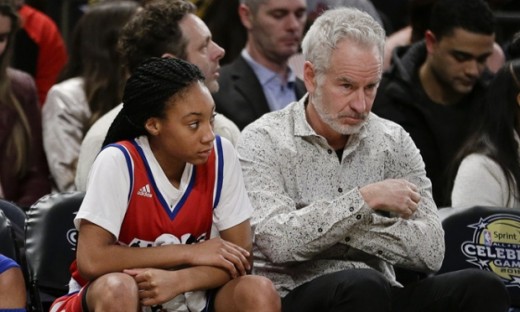 1
0:18 – Mason Plumlee…Hm…They do realize he's not from Brooklyn, right?  He's from Indiana…
10:19 – KYRIE IRVING IS HELPING!  Yes!!!!  This dunk has definitely been done before…
10:20 – Still, pretty cool dunk.  Phew!  Mason!!!!  That's gotta be tough when you're 6'10!
10:21 – 40?  Not too shabby, Mason!  Clyde can't work his score card…hah…
10:21 (2) – GIANNIS!!!!!!!!  I know you, already, buddy!!!!!  WIN THIS!!!!!!!
10:22 – The term is TALL GLASS of water, Reggie.  not long drink.
10:23 – Aw, Giannis blew it.  :-(
Good thing Kevin Hart was there to help, right, guys?  It's not like he's overexposed or anything right now…
10:24 – 30.  Yikes.
10:26 – Oladipo comes singing NY, NY.  He is so great.  What a kid.  Good thing the Cavs had no shot of getting him or anything, right?  Oh yeah…
10:27 – WOW!!!!!! OLADIPO!!!!! WOWOWOWOWOWOWOWOW!   Mr. 360!  Mr. 540!!!!!  Holy crap.  Might be the best dunk of the last four years.  Backwards!  WOW!
https://www.youtube.com/watch?v=RFXYLeOwWCQ
10:28 – I guess they ditched the iPads for the judges.  No doubt about it, though.  Victor gets a 50!!!!!  Wow.  The girlfriend is so into this.  I consider this night a victory, guys.
10:29 – HOLY CRAP!  QUAD CITY DJs IN THE HOUSE FOR ZACH LAVINE!  TOON SQUAD!  Ok, this is officially a win of a contest.
10:30 – WOW!  FIRST TRY!!!!!!  THROUGH THE LEGS AND BEHIND THE HEAD!!!!!
10:31 – Dr. J is not impressed.  BUT IT'S A 50!!!  Phew.  Amazing round 1.  Loving this.
10:36 – Giannis, round 2.  Ugh I love this kid.
10:37 – Eh.  Sadly, this gets a 7 or 8 from me.  Sorry, Giannis.  I was pullin' for ya!
10:38 – Dr. J is seriously not impressed.  A 6!
10:39 – Mason gives an EH too.  I'll give him a 7.5.  Lets round up to an 8.  The GF's score: 7.
10:40 – Dr. J was mildly impressed!!!!!! An 8!  But Mason finishes with 76.  Yuck.
10:41 – Victor!  Kids a sig from Hakeem.  But his dunk?  An eh pass from Payton.  An 8 from me and GF.  39 from the judges!  89 for Victor!  Zach, time to crush it.
10:43 – Holy crap Zach LaVine!!!!!!! From the other side!  BEHIND HIS FREAKING BACK!  ON THE FIRST TRY!  AGAIN!!!!!!  LaVine is amazing.   WHAT???  Wow.
10:44 – 100!!!!!  A perfect round one for Zach!   PHEW
10:46 – Love the animated Android dunk contest ad.  You may win me over yet, Google.
10:51 – Aw.  Oladipo comes so close, but can't do a hand-off between the legs.  Poor kid.  31.  Aw.
10:53 – LaVine is going to win.  No question.  Similar to Oladipo.  But the righty finishing with the left hand is awesome.  He's got some serious hops and coordination.  Straight 9s!  45!  Should've been a 10.
10:57 – Poor Oladipo.  Tried to do a tossed one-handed 360, but couldn't land it.  Still – 41!  If Zach tanks…Hm….
10:58 – WOW!  Zach LaVine!!!!  TOSS OFF THE BACKBOARD EXTENDER!  BETWEEN THE LEGS!  WOW!  10, no question!  One of the most impressive single contests ever!
10:59 – SERIOUSLY TINY ARCHIBALD?!?!?!  49.  But wow.  Zach, that was something, man!  PHEW!
11:02 – And with that, it's a rap!  I'm pretty pumped after LaVine brought it!  The GF is a fan, too.
I better change the channel before J.Lo comes on.  Seriously, change the channel now, guys.