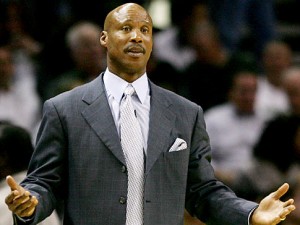 While I'm as pleased as anyone with Cavs' 5-5 start, only one of their wins has been against a legitimate contender (Boston), and they have lost to Toronto, Sacramento, New Jersey, and Indiana. Four of the Cavs' next five games come against 2009-10 Playoff teams. As the cliche goes "We're going to learn a lot about this team over the next week." First up: two road games in New Orleans and San Antonio.
I have wondered over the past couple years whether or not Chris Paul played a significant role in Byron Scott's firing as the Hornets head coach because of this Bill Simmons article (4th paragraph) from 2008, but they are ostensibly on great terms. Paul refers to Scott as "[his] guy" and it's possible the two shared dinner Thursday night.
Brian Windhorst did an interview with DSN Cleveland's "The Gloves are Off" on Wednesday talked about LeBron's performance in the 2010 Eastern Conference Semifinals and how he's acclimating to Miami. WFNY does a good job of recapping some of the major revelations from the interview, and you can find the whole interview here.
Here's a good overview of Byron Scott's coaching style and what's motivating him this year. He's mad as hell, and he's not gonna take it anymore going to try to coach the Cavs into the playoffs.
Appearing on your Cleveland Cavaliers 2010-11 All-Star Ballot: J.J. Hickson, Anderson Verajao, Antawn Jamison, and Mo Williams.
Here's a feature published yesterday in Bloomberg Businessweek about Dan Gilbert, his approach to building a championship team in the Post-LeBron Era, and the financial forecast for the Cavs in the coming years.
For all you stat-geeks, David Berri has a heavily-statistical breakdown of whether or not the Cavs' current record is a mirage.
On The Twitters
The lack of NBA action last night meant the NBA Twitterverse was sparsely populated, but everybody loves a good dunk: "Eric Gordon's "I'm Home" dunk http://dlvr.it/8psym #PBT #NBA" [Kurt Helin]