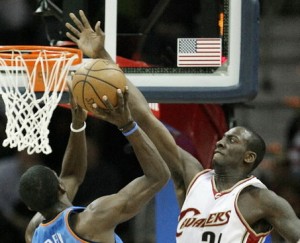 According to Byron Scott, he has developed a somewhat combative relationship with J.J. Hickson because "[Scott sees] so much in him–maybe more than he sees." It's unclear whether or not Hickson is responding well to this tough love approach. He has said of his extended time on the bench: "I'm trying to win. I don't know what [Scott]'s trying to do." We'll keep a close eye on the Scott-Hickson relationship throughout the season.
Mary Schmitt Boyer discusses Jawad Williams' struggles, the chances of Jamison cracking the starting lineup, and Boobie Gibson's surprising early-season success on this week's podcast.
Joey Graham is a fascinating guy. And Byron Scott says he's going to see more playing time in the near future. No official word on who he will replace in the rotation, but I agree with Jason Lloyd: Jawad Williams, who is battling a groin injury and a case of ball-stopper-itis, will probably see his minutes decrease.
It has been stressed by Scott, the media, and Cavs broadcaster Austin Carr: the Cavaliers offense operates at peak efficiency when the ball moves with great frequency. WFNY's Scott Sargent delineates just how true this is.
Byron Scott confirms that he will not, indeed, be "staying out all night getting drunk" when he returns to New Orleans for the first time since he was fired in November of 2009. This is good news because I always find it difficult to gameplan for Chris Paul while throwing back shots of Patrón
A little methadone for Cavs nation: LeBron is worse off in Miami! (Sort of.)
I know a lot of Cavs fans have been pulling for OSU alum Greg Oden to get healthy, but it appears he has suffered yet another massive setback, as he will undergo a second microfracture surgery, this time on his left knee. Kevin Pelton weighs in on what's next for the Blazers big man.
On The Twitters:
It appears Eyenga is, as most assumed, a year away: "Christian Eyenga headed to Erie, Pa., today for D-League assignment." [Bob Finnan]
"Quote of the Night: Chris Bosh wants to chill http://dlvr.it/8kNNq #PBT #NBA" [Kurt Helin]
"Was thinking to self that Tony/Eva's personal life none of my business. Then realized I had four windows open with stories about it. *sigh*" [Ken Berg]