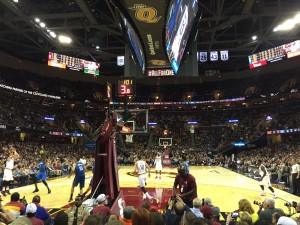 Mallory was lucky enough to snag four (count 'em, FOUR!) tickets to a home Cavaliers game on Monday.  The following are some notes, anecdotes, and observations.
First, I'd like to thank a certain, unnamed source in the Cavalier business office who kindly hooked me up with four tickets (surprisingly, though, not through my blog connections!)
Tagging along for my Thanksgiving trip to Ohio is a close German friend who is without family in the States.  She had never experienced a traditional Thanksgiving, so what better way to expose her to one than with my crazy family?  (side note: 22 people, many of whom are as loud and energetic as I am, makes for a very fun but overwhelming time).  Of course, my dear friend had to attend a Cavs game if we were in Ohio.  So I did my darnedest to find us decent seats.  It should be known that my German friend is undyingly in love with Kevin Love.  Apparently so is my girlfriend, my mother, my aunt, and both of my teenage female cousins.  Has anyone else encountered Kevin…Love?
Before the game, I had to drag my German pal to Sokolowski's.  Yum.
We arrived at the game early and were given a quick tour of the updated arena by my Cavalier friend.  He was nice enough to hook us up with Platinum Lounge access and amazing seats.  Being my first time in such seats, I've got to say the Cavs organization nails the treatment.  Really top notch.  
Except for craft beer options.  Seriously, Cavs?   Your only choices are Dortmunder and a $9.50 Christmas Ale, both from the bottle?  No IPAs?  No other local representation?  And you really think Yeungling makes up for it?  GET IT TOGETHER.
The new screen is AMAZING, designed specifically to be seen perfectly and completely from basically any angle in the arena.  It curves so your eyes, which naturally curve, can see the entire screen, and tilts down for maximum viewing.  It's also stunning to look at.
In addition, the arena is now outfitted with new, super high def screens in each upper corner, new high def strips around the different levels (what are those screens called?) and new ad screens at every entrance/exit.  Those corner screens are incredible – big enough to display every stat at all time, and also be seen by everyone.
I stood and watched as all the Cavaliers warmed up – the biggest points of interest that jumped out at me?

Tristan Thompson came out earliest and stayed the longest.  The dude works his BUTT off.  He's also added a ton of range – he was regularly draining shots near the three point line.  Lets see how that translates in games over the next few months/years.  He's also in MUCH better shape than he appeared to be in previous years.  Basically, he's JACKED.
Kyrie Irving jumped at the opportunity to go to the other end of the floor when he was warming up.  James, Love, and Irving (and a few others) all came out to get their reps in at the same time.  After the last Magic player left the floor, Kyrie immediately ran down to their side of the court, away from the rest of the team.  Obviously you can't read that much into moments like this, but it's sort of shocking that the youngest guy wanted to warm up completely on his own, and do so at his own convenience.  I would've liked to see him joking around and chatting with the other players.  Hm.
Kevin Love's shot form is even prettier (and higher) in person.  But lets be honest, there is no way he's 6'10.  Or 6'9.  Or maybe even 6'8.
Is Damon Jones a Cavalier coach?  Because I swear I saw him.  If that was him…Boy did he gain a couple of pounds… Bob Finnan of the News-Herald says he is… sort of.

Our seats were behind the basket and very, very low, so I didn't get a great vantage point of the new court design live.  It was not easy to see the skyline design live, though.
The pre-game/half-time/commercial break entertainment was pretty by-the-books.  The best part, was, as always, the fire.
The fans disappointed me a bit.  Sure, it was a Monday, but they didn't really arrive until well into the first quarter, didn't get back to their seats until well into the second half, and left early.  Yes, it was a blow out, but support your team, especially when they're struggling!
The body language wasn't as bad as you would think considering the Cavaliers were on a four-game losing streak.  They were toned down, sure, but I didn't get the feeling there was any animosity or lack of chemistry.  I'm certainly not as worried as I thought I would be.
Evan Fournier needs a hair cut.  Badly.  Seriously, dude, the ponytail/bun is not a good look.  Get your hair cut, you hippy!
Beyond the game, which featured Andy doing his elbow thing with complete ease, Lebron finally getting his mojo back (side note – he definitely is not elevating like he once did.  What's up with that?), and Kyrie fighting through pretty much every screen he could (oh yeah, and Dion missing a wide-open layup RIGHT in front of me…GET IT TOGETHER, DION), the best part of the experience was forcing one of my college buddies to get his picture taken with every single mascot/cheerleader/security guard that walked by.  It got to a point where my entire section was encouraging him, and ended with him being in a spoon sandwich with Moon Dog and the Cavalier.  Great stuff.
Overall, despite the fact that it was clearly a cake-walk against the lowly, Tobias Harris-less Magic, the whole experience was a blast.  Once they add some serious craft beer options, I'll consider it perfection.