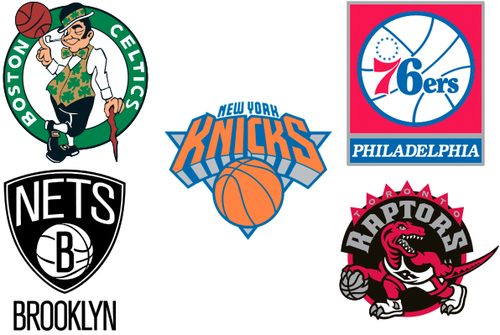 The Atlantic Division – the teams here are filled with greatness, with history, with winning…except in 2014. What was once a division held to the highest of standards – Larry Legend! Dr. J! Walt! Vince Carter! (haaaa) – is now replete with mid-level mediocrity. To make matters worse, unlike their Eastern brethren to the south and west, the majority of Atlantic teams won't see substantial improvements in the upcoming years. In short, don't expect much from the Northeast this year. Lets examine…
Boston Celtics
Scary to think that seven years ago Boston was going through exactly what the Cavaliers are going through right now. It feels like eons ago that heralded vets Garnett, Pierce, and Allen teamed up with young stalwarts Rondo and Perkins to complete an unprecedented turnaround. Things couldn't be further from that now, though. After losing vet and team leader Rondo to a torn ACL towards the end of the 2013 season, the Celtics have hovered between bad and unwatchable since, letting their core leave via trade and free agency, choosing to collect young assets. With an extremely young team, including the highly regarded Marcus Smart this course will likely continue. The most exciting moment of the 14-15 season may be the inevitable trade of Rondo.
Additions: Marcus Smart (Rookie), James Young (Rookie), Evan Turner (Pacers), Tyler Zeller (Cavaliers), Marcus Thornton (Nets)
Departures: Kris Humphries (Wizards)
Storylines:
1. How long will Rondo stay on this Celtics team? And Where will he go? What will the Celtics get in return? Really, at this point it's a matter of when, not if. Until he goes, this Celtics team will be held somewhat hostage by his inevitable departure.
2. Can this team of youngsters really complete? Once Rondo does go, the big question is Marcus Smart, a guy that many (including myself) like a ton. But he's a player whose impact level, especially on a team of other very young players, is certainly in question right now. If Celtics coach (and Nate Smith dream-boy) Brad Stevens can work his magic and get the young guys to buy in, the Celtics could be a surprise playoff contender. (HAH….sorry…trying to keep a straight face).
Cavs Championship threat level: 1
The Celtics are at least two years off from being more than a prick of a pin – maybe they'll pose a regular season test, but even if they're shockingly better than expected, i.e. Sullinger and Green play out of their minds, Smart wins ROY, etc., and they make the playoffs, they'll quickly get crushed. Don't expect much here.
Prediction: 34-48, miss the playoffs (but are closer than they should be – thanks for sucking, EC!)
They'll be much improved over last season – Stevens is starting to get his guys, the Rondo distraction will resolve, and there's more talent than in years past…but that won't be even close to enough. Get ready for a bumpy road, Celtic faithful.
Brooklyn Nets
My goodness, how times have changed from just a year ago – what was once a bottomless money pit and self aggrandizing toy for a Russian billionaire is now the scene of moderate chaos. After grabbing a bunch of big-time vets from their division foes up north (hi Paul, Kevin), the Nets continued to underachieve in 2013-2014, getting bounced 1-4 in the conference semifinals. Then came the Jason Kidd craziness, leading to the eventual hire of what is likely a steadier hand in Lionel Hollins. Saying adios to Paul Pierce and Cavalier favorite Shaun Livingston, as well as over-performing vet Andray Blatche will certainly hurt. Oh, and lets not forget the rumors that Prokhorov is exploring selling the team. The Brooklyn brand as a whole may be at its peak right now, but, while those crazy kids in Bushwick may be reveling in their own hipness, the Nets, just down Atlantic Avenue, will continue to see their relevance fade if they can't get the most out of one of the oldest teams in the NBA.
Additions: Jarrett Jack (Cavaliers), Markel Brown (Rookie), Cory Jefferson (Rookie), Brook Lopez (injury)
Departures: Paul Pierce (Wizards), Shaun Livingston (Warriors), Andray Blatche (China), Marcus Thornton (Boston)
Storylines:
1. Can Lionel Hollins coach a team filled with aging vets back into relevance? It'll be a challenge. While some of us (namely myself) had high expectations just a year ago, the Nets continued to underachieve. Kidd my not have been the man for the job, but maybe Hollins will be? If he can get more out of Deron Williams, this team may be surprisingly decent.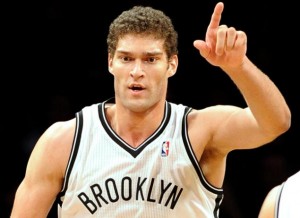 2. How much of an impact will Lopez make? Before going down with a foot injury in December of last year, Lopez looked primed for a major breakout. Just now entering his prime, a return to form could lead to substantial improvement in this Nets team.
Cavs Championship threat level: 4.5
There are a ton of question marks on this roster – health, age, coaching, chemistry, depth, that make predicting the competitiveness difficult. The Nets could be much, much worse than they were last year, or substantially better. If Hollins turns out to be better than Kidd, which I think he will be, and Lopez can return to form, which he should (though, side note, lets not forget how scary a foot injury can be to a big man), the Nets could actually pose a minor threat to the Cavs. Being a team filled with vets — including the cold-blooded Joe Johnson, who always seems to up his game against Lebron and Kevin Garnett, who would love to play spoiler to Cleveland — won't make things easy. Factor in the "nobody believes in us" mentality and the potential, albeit slight, of a Williams renaissance, and the Nets could surprise more than a few people.
Prediction: 45-37 (Playoffs? Maybe? Possibly?)
It's always hard to tell just how long a group of aging vets can keep up their level of play – Joe Johnson will be 34 next year, for god's sake! More than any other team in the Atlantic, and maybe the EC in general, the Nets have the widest variance in record potential. 40-42 is in play, as is a 50 win season. My guess is something dead in the middle.
New York Knicks
Speaking of wildly difficult to predict teams, just across the East River is another franchise in flux. Yes, they happily welcomed the steady, homegrown hand of Phil Jackson, yes, they re-signed Melo, and yes Phil brought in his guy in Derek Fisher, but other than purging the roster of high-priced under-performers (instead choosing lower-priced under-performers), what exactly did the Knicks do to improve? Getting rid of locker room cancer and buffet-loving Ray Felton will certainly help, but will Jose Calderon make that big of a difference? As has been the case since his arrival, the success of the Knicks will continue to live and die with their superstar, Carmelo Anthony.
Additions: Cleanthony Early (Rookie), Jose Calderon (Mavs), PG Shane Larkin (Mavs)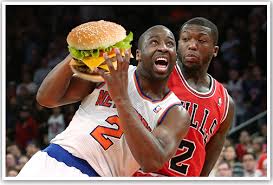 Departures: Tyson Chandler (Mavs), Raymond Felton (Country Kitchen Buffet)
Storylines:
1. What can the Knicks expect to get out of their vets? Amare is supposedly back to his old form, J.R. Smith is…um…still there, and Jose Calderon will bring a little Spanish flair to a team that really doesn't need any more flair. Chances are Cleanthony Early won't be ready for the limelight, and you basically know what you're getting from Melo at this point, so the biggest question mark will continue to be the supporting cast. If they can all play as well as they have in past years, this Knicks team will be much, much, MUCH better than last year.
2. Will having Phil in the luxury box and Derek on the bench really make that much of a difference? It's tough to tell how much impact both will have on this team – for instance, is Melo really going to buy into the triangle offense? Still, it's hard to deny the allure of Phil's rings.
Cavs Championship threat level: 6.5
Do I think the Knicks are contenders? No. Do I think playing in NYC gives them wayyyyy more press than they deserve? Yes. Am I still somewhat sentimentally attached to seeing the orange and blue Knickerbocker crew (no, I'm not a Knicks fan, and clearly I'm not staying true…)? A little. But objectively speaking, I wouldn't want to play the Knicks in the playoffs, should they make it there. First, the Knicks are one of the only teams in the NBA with an actual, true-blue superstar; that old NBA adage about the team with the best player on the floor winning comes to mind here. Should Melo have a couple insane games (coupled with J.R. Smith catching fire and a return to form from Amare), this Knicks team could be scary. Do I think this will actually happen? No. But is it so far outside the realm of possible that I want to test the theory? Absolutely not – stay away, please.
Prediction: 45-37(ish)
Much like their big-spending bros on the N/Q/R/2/3/4/5/F(?)/D(?) lines (Jesus, does every train get you to Atlantic Terminal?!), the Knicks have a high variance of outcomes. It's possible they'll actually improve a lot – Calderon is a perfect PG alongside Melo (dude can shoot the three), and there's no way Amare and J.R. Smith make LESS of an impact than last year. If I had to put money on the Nets or Knicks making the playoffs, I'd probably sprint as far away from the bookie as possible. Either way, it'll be fun to watch!
Philadelphia 76ers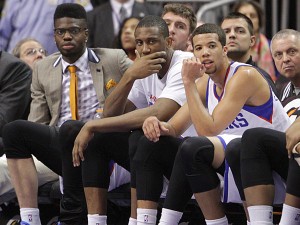 HAHAHAHAHAHA….(ahem…sorry…)…hahahahahahahahahahah. Seriously, though, what else is there to say about Philly? Clearly they have no interest in winning, at all. It's very, very, very possible they will be WORSE than last year. I feel for ya, 6er fans. I really do.
Additions: Joel Embiid (Foot doctor), Chris Johnson (Who?), Luc Richard Mbah a Moute (T-Wolves), Alexey Shved (T-Wolves), K.J. McDaniels (Rookie), SF Jerami Grant (Rookie, Nerlens Noel (Injury)
Departures: Thaddeus Young (T-Wolves), James Anderson (Lithuania)
Storylines:
1. Just how bad will the 76ers be? Bad. Really, really bad. Does it even matter how bad? Probably not. Noel is talented, but is going to foul a ton, and the front office just shipped off the team's best player for…not much. You thought last year was bad? Be prepared for worse.
2. At what point will the fans give up? The tank job in Philly is unprecedented – they've be almost-kinda-sorta open about the desire to be bad – will 76er fans put up with it?
Cavs Championship threat level: -10 (or worse)
If Philadelphia could, I suspect they would just welcome an 0-82 season. As it stands, though, this will be a not-so-fun game to watch. If they win, it'll only be because of a lack of interest from Cleveland.
Prediction: 15-67 (or worse)
Last year was bad, yes, but it's easy to forget the 76ers actually started 6-4, before they obliterated their roster. I do not expect that to happen…At all. Subtract those six wins from their schedule, and they finish 13-69. That's much closer to what'll happen this year. It definitely isn't always sunny in Philly…
Toronto Raptors
And so here we are, finishing the preview with the supposed cream-of-the-crop young Toronto upstarts. DeRozan is a beast, Lowry is amazing, and Ross is budding, and Jonas is…well…Jonas. In 2013-2014, Toronto was shockingly good, nearly stunning the wayyyyy more expensive Nets in the playoffs. in 2014, they should be even better, getting old, wiser, and steadier. There's no question Toronto is the team to beat in the Atlantic, but by just how much? The biggest question mark on this team will continue to be whether or not there is a superstar present to help take them to the next level. Are we just seeing a retread of the Wizards/Bucks/Hawks of the 2000s? Or is this the beginning of something special?
Additions: Lou Williams (Hawks), Lucas Nogueria (Hawks/Rookie), Bruno Caboclo (Rookie), Greg Stiemsma (Pelicans)
Departures: John Salmons (Pelicans)
Storylines:
1. Is this the most exciting young team in the East? 13-14 was a revelation for the Raps – no one saw it coming, but boy was it fun! Still, like the Wizards in Washington, where exactly is this team going? This team will continue to get better as their players age and enter their primes, but what is the ceiling here? Are the Raptors a group of budding stars, or a roster of high-level second fiddles?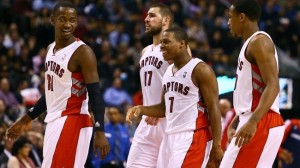 2. Who is the man? Lowry is clearly the leader of the team, while DeRozan is the guy posed for the biggest leap. Jonas could end up making the most impact, should he develop his game, while Ross continues to hold the most potential. With such a talented roster, it's a luxury to pose this question. Still, that doesn't make it any less valid – when it comes down to the final shot, who do you want taking it? My money is on DeRozan, but, right now, there really is no wrong answer.
Cavs Championship threat level: 6
I know, I know, how could I put the Raps, clearly the best of the Atlantic, as a lower threat than the Knicks? Because I'm still not convinced, and the Raptors have yet to prove, that when the going gets tough, their know what they're doing. Yes, they pushed the Nets last year, but a push is not the same thing as pulling out the victory. And when it comes down to it, there's a little nagging voice in the back of my head that continues to say "remember when Melo almost single-handedly beat the Celtics?" Yeah, that's why I'm not sold on Toronto yet. No matter what, this will not be a cakewalk.
Prediction: 50-32
Is Toronto better? Yes. Will they probably be a top four team in the east? Yes. Is that enough for more than a two-game improvement in the win column? Probably not. First, the Cavaliers are CLEARLY much improved. Second, Boston and New York should be better than in past years, and third the rest of the East, while still not top-heavy, is more talented in past years. Orlando, Washington, Charlotte, Chicago, Milwaukee, Detroit – all should improve their records over last year. Miami and Indiana will be worse, but that's not enough to give Toronto the necessary record boost they'll need for a substantial regular season improvement. But hey – at least the East will be more exciting than in past years, especially for Cavs fans.