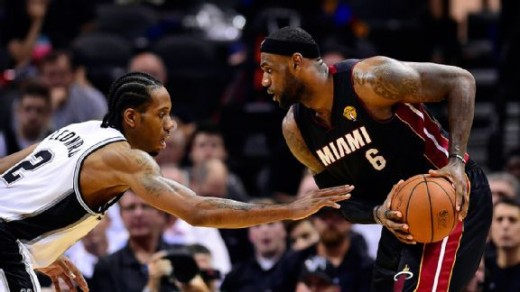 Four points I'm thinking about the Cleveland Cavaliers…
1.) I caught up with fellow Truehooper Graydon Gordian earlier this week. Graydon is Editor Emeritus of the Spurs' blog 48 Minutes of Hell and this finally-August-hot September evening was the first time we'd talked hoops since the Cavs' Hulked-Out off-season began. Possibly because I immediately demurred to his own loyalties ("There's no way I want any part of the Spurs, should the Cavs make the Finals this year," said I) we strolled down Hypothetical Way, talking about the likely Western Conference contenders and how, should all of the 950,000 things that must go right for any team to dream of playing into late-June go right for the Cavs this year, each of them might match up against the wine and gold from Nor'thrn 'Hia.
Graydon's take on a Spurs/Cavs Finals: "If the Spurs make it to the Finals, it means the Spurs are healthy and, right now, this Cavs team doesn't beat a Spurs team at full strength."
Congratulations, Spurs. You are effectively in the NBA's collective head — and deservedly so. The offensive clinic that steamrolled the Heat just over two months ago is one thing, but the Cavs will likely be sending plenty of teams to a similar clinic this year. More of the Spurs are battle tested, though, and less likely to experience any mental hiccups from going through all of this for the first time. Is there a Cavs fan out there who really wants to be the one saying, "No way a Kyrie Irving, Dion Waiters or Tristan Thompson gaff in a high pressure situation costs this team key games in the 2015 Playoffs"? I didn't think so.
The other thing the Spurs have going for them, of course, is Kawhi Leonard. In this year's Finals, Leonard showed he is possibly as good as any wing player in the league at making LeBron James work. So, yeah, a healthy Spurs team could make for a brief 2007 Finals reunion.
It would, however, give us some great Patty Mills vs. Matthew Dellavedova run that could decide the fate of, at least, one game. So, you know, there's that…
2.) Should the Los Angeles Clippers do the most un-Clippers-like thing in history and actually make an NBA Finals, the Cavs would find their hands similarly full.
Graydon's take on a Clippers/Cavs Finals: "I think, if the Clippers come out, they'd have to be looked at as the favorites over the Cavs, as well."
The Clippers do present problems. Blake Griffin is a terrible match up for Kevin Love, even if Love's defensive intensity tightens up by a couple of belt notches this year. Anderson Varejao may be able to annoy DeAndre Jordan, but that's kind of negated by the fact that Jordan can jump completely over Varejao, the tips of his sneakers only brushing past Andy's bouncy locks. There's enough athleticism between Griffin and Jordan to make things difficult on James from 18 feet and in. And then, of course, there's Chris Paul.
Paul is often (and aptly) called surgeon, but he's a surgeon that looks a lot more like Freddy Krueger — hands teeming with gleaming scalpels on every finger — than George Clooney (who, yes, played an ER doctor, not a surgeon … I know, I know … geez). Paul just pokes and prods a defense before opening it up and completely eviscerating it. Just like that, it's metaphorical Cavs guts everywhere and Jordan angrily screaming at the camera after some particularly demoralizing alley has just been ooped.
What else do these first two teams have in common to make the Cavs underdogs? Why, it's a pair of darndedly good head coaches, that's what. While there are those — and not just Cavs fans — who think David Blatt will turn into an excellent NBA coach, the feeling is that Blatt's first time through the league would still leave him vulnerable against two of the NBA's best: Gregg Popovich in San Antonio and Doc Rivers in L.A.
3.) The tide starts to shift back toward the Lake Erie shore after those teams, though. Enter the other top contender to get out of the West: the Oklahoma City Thunder.
Graydon's take on a Thunder/Cavs Finals: "Love's ability to stretch the floor will take away a lot of what makes Serge Ibaka special on defense. LeBron and KD could just go at each other. They'd have to watch out for Russell Westbrook going into pitbull mode, but I think [the Cavs] would have a real shot to win this one."
Despite continuing to sport two of the league's top five players in Kevin Durant and Westbrook (and another in the top-20: Ibaka), the Thunder have been less able to fill in gaps by stuffing those gaps with money (Clippers) and, while they've been the critical darlings of the NBA Draft, they haven't had Spurs-like success in digging through that haystack or the NBA reclamation project bin in recent years.
But coaching continues to be the thing keeping the Thunder's bandwagon from ever seeing full capacity. Cavs fans would feel very secure in seeing Blatt — a veteran coach who is not short on fans of his ability — go against Scott Brooks. While the Thunder are incredibly predictable in their schemes (the unpredictability comes from the amazing talents of the players playing in those predictable schemes) Blatt will likely field a game plan with a few more wrinkles (and, no, that's not a knock on Shawn Marion's age).
4.) And what about the East? Well — and this is where one can get oneself into a real pickle if Cleveland's Wet Dream Team goes belly up, but here one goes… — while the Wizards, Hawks and Heat could all serve up plenty of challenging moments, the consensus "go through" in the East is the Chicago Bulls.
Graydon's take on a Bulls/Cavs Eastern Conference Final: "I'm not as high on the Bulls as everyone else. Can I see a situation where they'd come out of the East? Sure. But it could go either way."
While most of the attention will be on the relative health of Bulls point guard Derrick Rose, an equally big question will whether new power forward Pau Gasol is rejuvenated by not having to play on last year's terrible Lakers team or if last season, which saw Gasol average a career-worst 13.7 points, was the start of a career down-ticking from the 34-year old Spaniard.
Tags: Blake Griffin, Chris Paul, Kawhi Leonard, Kevin Durant, Lebron James