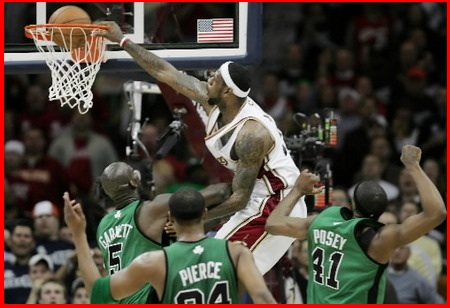 I finally have a day off of work, so I've been catching up on some NBA reading.  The Ball Don't Lie blog has been doing pieces this past week about historic dunk moments in the NBA.  LeBron's dunk on Kevin Garnett and James Posey during game 5 of the 2008 Eastern Conference semifinals was covered by Joey Gulino.  This piece features some truly animated writing and is a must read.
Let me tell you something about Cleveland fans. These moments don't happen for us, they happen to us. Except this time. Except when the greatest athlete to ever suit up for Cleveland exploded from Boston's big green grip with no regard for the Celtic defenders, with no regard for the concept of basketball as a team game, with no regard for … well, you know.

Kevin Harlan's forceful narration was the perfect punctuation. He said what nobody else in the moment could. Cavs fans could do nothing but scramble for inaudible exuberance. Celtics fans could do nothing but swear. Neutral fans could do nothing but shake their heads in appreciative disbelief. Doug Collins could do nothing but register the audible equivalent of slack-jawed astonishment.
There are even more memories to recall today.  Over at Cavs.com, they put together the 90s All-Decade team.  If you're younger like me, the piece has some great facts about the older players that led Cavs squads that were among the best in the East for a long time.  I knew about a lot of these guys, but I didn't know how dominant some of them actually were.  Older people will surely appreciate the photos of Craig Ehlo, Mike Fratello, Brad Daugherty, Larry Nance, Hot Rod Williams, Mark Price, and others.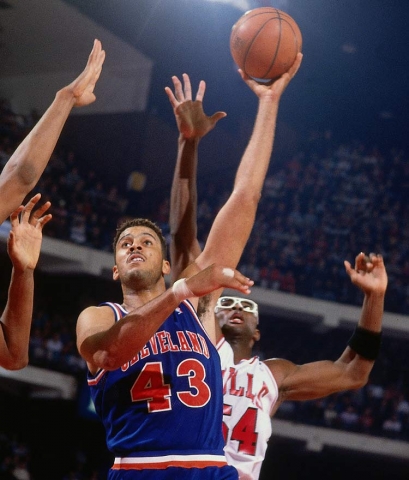 Chris Fedor of The Northeast Ohio Media Group thinks Kyrie may be the next NBA player to use the international basketball scene to take his game to the next level. Derrick Rose, James Harden, Russell Westbrook, and Kevin Love all used international basketball tournaments to develop into the players they are today.  It's all about practicing with the best.
It's possible that all these things could've happened naturally. It could all be a coincidence. But playing against the game's elite and matching up with them in practice brings out the best in guys.
Fedor also pointed out that Kyrie is getting experience playing in a setting that matters. That's great prep for this coming season.
Griffin knows the importance of playing for Team USA. Not only is it a chance to play for the country and win a gold medal, but Irving is playing in pressure-packed games for the first time since the 2011 NCAA Tournament. He's coached by some of basketball's best teachers and is practicing against some of the league's best.
In an interview with Hoops Hype, Andy stated that he wanted to retire with the Cavs and also said he never wanted to be traded during the dismal LeBronless years.  Andy is being rewarded by getting the chance to play with the second version of LeBron James. Greg Swartz has detailed LeBron's development, since he left Cleveland.
As James has continued to get bigger and stronger, his game has opened up on the offensive end. While playing almost exclusively at small forward during his first seven years, he actually spent the majority of his time (57 percent of all plays) at power forward with the Miami Heat.

FG

%

3P%

3PM

3PA

PITP

%
RA

FG

%
Paint

FG

%
2009-10

Cavs

50.3
33.3
1.7
5.1
39.9
74.5
42.5
2013-14 Heat
56.7
37.9
1.5
4.0
50.3
78.3
50.4
LeBron has doubled his skill set, since he left the Cavs.  Andy and the rest of the Cavs will all get to witness the King improving the whole organization on and off the court this season.
Last but not least, Cavs: The Blog writer Robert Attenweiler has a guest spot in a post over at the Memphis Grizzlies blog, 3 Shades Of Blue.  The post is one in a series dealing with the teams the Grizzlies will face.  Red Coleman breaks down the Cavs in a not-so-standard preview that goes through what each player is going to do for the team this year.  His take on Dion Waiters is refreshing:
Dion Waiters is another player that seems to have a lot of upside, even if most fans still aren't sure what to make of him yet. We mentioned the spot-up shooting of Miller and Jones above, but Waiters has the potential to be a legitimate fourth scoring option on this team similar to what the Spurs saw two years ago with Danny Green in the playoffs.
I'll take that view of Waiters any day.  Robert got to give his thoughts on the Cavs to a Grizzlies fanbase. Like most Cavs fans, he believes in the offense and is hesitant to praise the defense.  And, he declares the final score of the Cavs-Grizzlies game likely won't be decided by any one player.
 The key to the Cavs/Grizz match-ups could come down to new head coach David Blatt's offense versus the Grizzlies' always top tier defense. As we saw when he coached the Cavs in the Las Vegas Summer League this year, Blatt hates it when the ball stalls on offense. If he can keep his team sharing the ball like that when the real games start, it will go a long way when it's time to face the Grit and Grind.
Keep on infiltrating the enemy lines Robert!