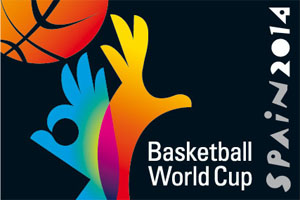 The inaugural FIBA World Cup is officially underway. Two days of group play has yielded relatively expected results: USA and Spain look dominant, Goran Dragic is hilariously fun to watch, Iran isn't very good at bringing the ball up and the talented Brazilian frontline will challenge Spain's for bigman bragging rights. That is all very good. But, as stated in the preview, this series is dedicated to the Cavaliers.
Kyrie Irving PG, USA, Group C
Kyrie got the start and played solid ball against Finland. The Finnish guards are so weak that Irving didn't really have to break out his Team USA defensive stance. To be honest, he looked "regular season Cavs" in this one, but it's hard to blame him. Kyrie was a totally different player against Turkey. For large stretches of this heavily contested game, Kyrie controlled pace, (perhaps to fault; he still loves walking that ball up) and played hard-nosed all around ball.
Coach K and Thibs have Irving go over most picks. There has been much talk about Kyrie's increased defensive effort for Team USA, but it is still jarring to see it in action. He moves laterally with both better technique and about 200% more effort. Irving still has a tendency to overplay the PnR and get himself in a troubling trail position. The difference is that he actually fights to get back into the play for USA. Irving has quick hands, defensively. When he uses his feet, he can take advantage of that talent. On one particularly beautiful play, Kyrie crashed down to pick up the rolling big man, sealed him under the basket when the corner three attempt went up, and held his ground enough to poke the ball off the outstretched hands of the opposing offensive big. It's little plays like this that should have Cavs fans excited.
Irving also mixed in some classic Uncle Drew. Taking the ball from the right wing extended, he finished a beautiful up and under against a baffled Omer Asik(he was a defensive beast for Turkey). On a fast break, our favorite Uncle deftly dimed off the bounce to a streaking Faried. Kyrie hit from deep, hit floaters, and generally wowed the audience. More impressively, Coach K played Irving the entire 3rd quarter and into the 4th until it was clear that the USA would pull off the tough victory. Coach K clearly trusts Kyrie more than Curry or the ineffective Derrick Rose. The trust is deserved.
Anderson Varejao PF, Brazil, Group A
Anderson had a slightly subpar outing in the opening game against Boris Diaw and France. He brought his usual energy but failed to convert some shots to the tune of two for eight shooting. I like how hard Anderson is working for low position off baseline screen action. Though he has done a good job of burying his man deep, Varejao misfired from close range a few too many times. Nevertheless, five offensive rebounds and a win against a very solid French team is a good night's work.
Andy's second game was far more entertaining if you are a Wild Thing fan. From the middle of the second quarter through the end of the third quarter, Anderson was the most dominant player. His credited three turnovers are a bit misleading. One was on a dubious offensive foul and two were the result of mishandled passes. Andy had at least three beautiful feeds that would have led to assists had his teammates expected them.  He cleaned the boards both with effort and good positioning. In a particularly exciting stretch midway through the third quarter, Andy finished an alley oop dunk in transition and shortly after rotated over for a great weakside rejection. Varejao is playing more PF with Brazil and is moving like one. His bounce is great. I look forward to Monday's Spain vs Brazil match.
Matthew Dellavedova PG, Australia, Group D
Ouch. To be fair, Goran Dragic makes most people question their basketball talent. Delly had a game he'd like to forget in the opener. His five assists were erased by five turnovers. He only made one of seven shots. Matt was visibly frustrated a few times after playing solid defense in vain. Delly's patented chest up D did nothing to prevent Goran's finishes. Dragic is simply a magician. Let us move on. Fortunately, Korea doesn't feature one of the best PGs in the world. Though Delly didn't exactly light up the scoring column, he did direct the beginning of the game. He looked more like the Summer League Delly that was completely in control of every move on the court. His eight dimes and four board in 23 minutes exemplified his efficiency. He needed a confidence game after Slovenia.
Erik Murphy PF, Finland, Group D
It was tough sledding for Finland in the opener. The athletic disparity was comical at times. For Erik Murphy, it was another chance to show he belongs in the NBA. Murphy basically played his scouting report without being particularly hot from deep. His first three ball attempt was off balance. I don't like to see that much body tilt from a shooting big man. Fortunately, the poor form was an outlier. Unfortunately, he didn't hit a three with decent form either. His offensive game was rather blasé: simple floor spacing with the occasional screen thrown in. The Finnish system isn't exactly Spursian, but it wouldn't break my heart to see a bit more aggression. Regardless, he has done a good job on the boards. He showed a good ability to box-out the more athletic American players. The Fins play a lot of zone, so his rebounding is all the more impressive. He also took a nice charge to prevent a Uni-Browing incident.  Erik has a good catch and shoot game, but he often is a bit rushed. I suppose the Manimal and the Brow can have that effect on people.
He seemed to be more in rhythm against Ukraine. Murphy showed better movement off ball and continued his strong glass work.   It was a surprising win for Finland. Erik's 33 active minutes helped take a game that wasn't as close as the 81-76 final would imply.
Til next time. Happy Labor Day!
note: See the FIBA World Cup preview for viewing dates.
Tags: anderson varejao, Erik Murphy, FIBA World Cup, Kyrie Irving, Mathew Dellavedova