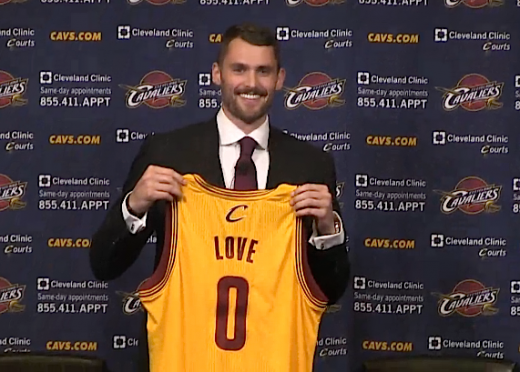 When LeBron James called Kevin Love on July 11, just hours after announcing his return to the Cleveland Cavaliers, his message to Love was simple: come play with me in Cleveland and let's win some championships together. Love's response was simpler still.
"I'm in," he said.
Actually getting to the point where Love could be photographed next to David Griffin holding up his number zero jersey wasn't quite so easy as that exchange between the Cavs' once-and-future star and their brand new one, but the Cavs got there. On Saturday, the trade was made official and, when opening up the floor to questions for Love, Griffin called him a man "who I believe you will be seeing here for a long time."
Griffin kicked off the presser by thanking Andrew Wiggins and Anthony Bennett, the two players they traded along with a draft pick in order to acquire Love from the Minnesota Timberwolves. Wiggins and Bennett, he said, handled themselves so well, so professionally, during what was "a very difficult time" for everyone involved.
He continued by saying that, while many people view their front office's interest in trading for Love as a relatively recent development, today was "a culmination of a year and a half of trade conversation" with Minnesota. He called Love a player who "fits us as well as any player possibly could have" saying that new head coach David Blatt had identified a need to find a big who could space the floor, rebound and pass.
Love is, of course, all of those things, but it may be what he said early in his Q&A that will make Cavs fans smile most: "I'm committed long-term… to win a championship in Ohio."
More Love:
•When asked about the evolution of his game from strictly a post player to one of the better shooting big men in the NBA, Love said he'd long been a fan of Dallas Maverick's star Dirk Nowitzki. He liked how Nowitzki was seven feet tall — and had a post game — but was still able to step away from the basket and hit shots, as well. It's not a coincidence, Love said, that Nowitzki wears number 41 and, in Minnesota, Love wore 42.
•About his new number: It was a long and winding road that brought Love to finally decide on zero as his jersey number. In Cleveland, 42 is retired in honor of Nate Thurmond. Though Love indicated that Thurmond was agreeable to letting Love wear his retired number, Love decided a fresh start was in order. But his Olympic number, 11, hangs in the rafters at The Q with the name "Ilgauskas" stitched on it. He'd even worn the number seven before, but that was Bingo Smith's retired number. So, he remembered a time as a kid growing up in Oregon, where he was so late to a game that the only jersey left for his to wear was zero. As he thought about it more, the "0" appealed to him as a tribute to his home state and, he said Griffin later pointed out, to Ohio, as well.
•Love said that, while it will clearly take time for he and his new teammates to get to know each other on the court, he knows many of the players personally already. Besides James, who he played with on Team USA, Mike Miller is a former teammate from Minnesota, he got to know Kyrie Irving while shooting the "Uncle Drew" Pepsi Max spots, knows Anderson Varejao well and has even worked with Dion Waiters in Los Angeles during the off-season.
•On Irving: "He's a tremendous player… both Uncle Drew and Kyrie." He stressed that Irving's ability as a passer — not necessarily the first of his many skills people following his Cavs career are likely to bring up — is why Love is so excited to take the court with his on-screen co-star.
•On James: "I'm the kind of guy who likes to be inspired [on the court]" and playing with James does just that. "He's so good at moving without the ball," Love continued and then, when asked about his famed outlet passing, likened his new Cavs teammate to the Detroit Lions wide receiver Calvin Johnson.
"LeBron is the focal point," Love concluded. "But we have a lot of damn good players."
With Love now officially on board, it's hard to argue with that.
Tags: David Griffin, Kevin Love, Lebron James