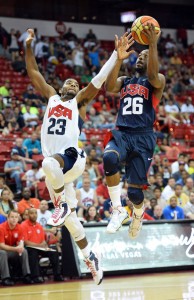 Cleveland is officially on the international radar.  Kyrie Irving has competed for and has earned a spot on Team USA.  He has exceeded expectations while earning that spot, and he will be starting tonight against Slovenia.  He might even take turns alternating at the starting spot with Derrick Rose once the actual FIBA tournament starts according to Mike Krzyzewski.
"We'll see as thing goes on. We might alternate 'em. Both of them are going to play significant minutes."
After being scared to death of signing Kyrie Irving to a max contract this summer, I am starting to become comfortable with his ability to play up to a max contract level.  He keeps showing that he can play with top caliber players and succeed.  Fortunately, the Cavs roster is full of stars.  Kyrie is also showing a lot of focus during this crazy Cavs offseason.  He isn't worrying about adjusting to playing with Kevin Love and LeBron James.  He's all about Team USA right now.
My focus is at USA basketball right now. When it comes to that time in October I'll start worrying about team chemistry and what we can do to be better. Honestly I don't have any other answer — I haven't met with any of them so I can't answer that."
While Kyrie is winning for Cleveland internationally, the Cavs as a whole are winning for Cleveland nationally.  Stars are flocking to the city.  Gregg Popovich was hanging out on the streets downtown.  Brendan Bowers (See below) has the proof and, despite being nervous and afraid of a Pop interview shutdown, he managed to get a quick quasi-interview done.
Me: Enjoying your time Cleveland?
Gregg Popovich: Yeah it's been great, lot of excitement around here.
Me: I can only imagine what it will be like when you guys come back for the NBA Championship.
Gregg Popovich: That'd be something [kinda smiles]. I'll tell you this much, though, the Cavs are going to be really, really good this year. They have a really good team.
I have been waiting almost my entire "post-decision" life to receive that type of clear cut statement about my team from Popovich.  Now, I hope the Cavs can live up to it and not get bounced in four if they face the Spurs in the Finals.
Kevin Pelton is at it again with his crazy numbers.  The SCHOENE's projection has Cleveland being a defensive juggernaut.  That's not a typo.  Using that system, Cleveland is projected to allow the fourth fewest points per possession.  The system lies though.
SCHOENE doesn't take into account measures of individual defense, so Love's poor rim protection isn't considered. At the same time, Love's stout defensive rebounding and his penchant for avoiding fouls are part of the SCHOENE projection, so Cleveland is getting all of Love's strengths and none of his weaknesses.
Using ESPN's real plus-minus rating paints a more average picture.
 Weighted for playing time, real plus-minus estimates Cleveland will allow 1.0 points per 100 possessions more than league average — about the same as last year's Brooklyn Nets, who ranked 19th in the NBA in defensive rating.
There's no reason to fear an average defense is going to sink the Cavs.
Let's revisit those real plus-minus projections. Weighting offense in the same manner gives Cleveland an offensive rating 10.0 points per 100 possessions better than league average. Since the NBA began tracking team turnovers in 1973-74, no team has managed even 10 points per 100 possessions better than league average, with the 2003-04 Dallas Mavericks (plus-9.9) getting closest.
This Cavs team is going to be utilizing a well known fact to anyone that has played pick-up basketball: shooting and playing offense is way more fun than playing defense.  Pelton does acknowledge that David Blatt might be able to help boost the Cavs defense, since coaches typically have more control over that than a team's overall offensive ability.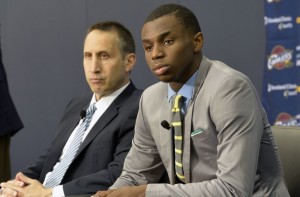 Cavs: The Blog writer Robert Attenweiler has a piece up for Triangle Offense about the Andrew Wiggins era in Cleveland.  It was a brief and awkward one.  Robert ends his piece with a firm take:
What started as one of the most buzz-worthy off-seasons in NBA history ended, unfortunately, in this awkward near-hazing of Wiggins and the league needs to figure out how to keep that from happening again. One solution would be for the NBA to waive the waiting period for a newly signed player to be traded if the league determines that the trade isn't being used to circumvent the salary cap (the reason any of these waiting periods exist). A more intriguing option, though, could be to prevent teams from trading newly signed rookies for one year from the date they sign.

The league can use this as an example of the way in which their own rules contributed to souring of an otherwise great story. And, as for Wiggins, this summer's been rough, sure, but the real challenge begins now.
I really wanted to keep Wiggins, so I can appreciate a no trade rule for signed rookies.  Although, the Cavs might have just traded him anyways and then had to have gotten rid of Dion Waiter's salary too to get Kevin Love.